It's a rare thing – a collision of worlds that makes complete sense.  The legendary Patrick Duff plays the legendary Blue Lamp on Sunday 28th April. Add local singer Craig John Davidson, poets Eddie Gibbons and Gerard Rochford and that collision promises to be a stunning spectacle glowing with talent. Esther Green tells us more.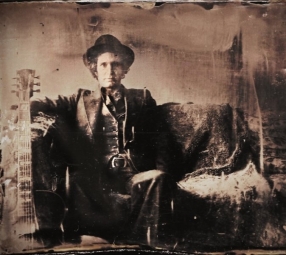 Patrick Duff was the singer of Bristol band Strangelove, a group that spanned the '90s and were never
quite
like anyone else. They toured with Radiohead and supported Suede in Aberdeen's Music Hall, on that occasion outshining the main feature.
Their accomplished musicianship and the ferocious star quality of their singer/lyricist Patrick shone brightly, but burned out months after their third album release in 1998.
This month, Patrick Duff makes his return to Aberdeen, a very different artist yet still not quite like anyone else.  He revisits the city a lone poet enriched by his varied life and musical experiences and one who describes his tales with eloquence, warmth and passion.
It is less a musical journey and more of an evolution that he has made over the last decade. His work with other artists such as WOMAD musician Madosini has had a profound influence on his craft and he approaches his live performances with openness and heartfelt honesty.
With two albums behind him – 2005's Luxury Problems and The Mad Straight Road in 2010 – and newly returned from a tour of Belgium, the Netherlands and Germany, Patrick has built up a steadily growing following through playing live, weaving storytelling and sometimes Johnny Cash or Bob Dylan covers into his shows.
As Patrick says on his website,
"The end of last year into the beginning of 2013 has been full of all sorts of exciting musical journeys and recordings." 
We look forward to his exciting return journey to Aberdeen.
Patrick Duff hopes to return to play in Scotland later in the year.  His new album Visions of the Underworld is due for release soon.
For an archive of Patrick's stories, go to:
https://www.facebook.com/events/350278098405950/
For information and news, go to: 
http://www.facebook.com/PatrickDuffArtist
https://twitter.com/patrick_duff
Brand new videos on vimeo
Hail Holy Mother: http://vimeo.com/63526986
Henry James: http://vimeo.com/61488719
ISLAND OF ERRIAD- Mon 22-24 April
INVERNESS – The Bothy (third floor of Hootenanay) – Thurs 25 April
Concert review from Arnos Vale (04.02.12):
http://www.bristol247.com/2012/02/10/review-patrick-duff-at-arnos-vale-cemetery-bristol-48392/
Part one (2011):    http://pennyblackmusic.co.uk/MagSitePages/Article.aspx?id=6281
Part two (2012):  http://www.pennyblackmusic.co.uk/MagSitePages/Article.aspx?id=6323