News from the frontline – with thanks to Jonathan Russell, Chair Aberdeen and District Campaign for Nuclear Disarmament.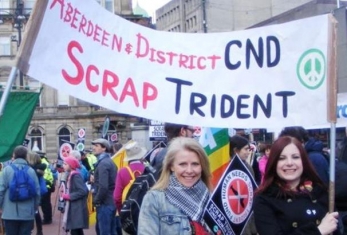 Both the Scrap Trident Demonstration and the Blockade were a great success. The atmosphere at both events was terrific.
The courage shown by the 47 people mostly women some in their 70's who decided to be arrested by sitting in front of the entrances of the Faslane Nuclear base was an example to us all.
One of the people arrested was a man from the North-East who has been charged with breach of the peace and resisting arrest. It is hoped that the charges will be dropped.
The actions and in particular the blockade received considerable positive press coverage however there was for whatever reason a noticeable gap in TV  coverage.
There was a large contingent of people from Aberdeen and Aberdeenshire involved in both events with representation at both the South and North Gates of Faslane as part of the blockade.
The Demonstration
The Rally