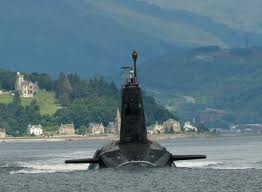 With thanks to
Jonathan Russell.
A coalition of groups opposed to Trident known as Scrap Trident has been formed both at Scottish level and in Aberdeen/Aberdeenshire – see: http://scraptrident.org/
A weekend of Action will be taking place this coming weekend 13th/15th April as part of the Scrap Trident Campaign.
This will include:
A National demonstration against Trident in Glasgow this Saturday 13th of April
Mass workshops on non violent direct action training in Glasgow on Sunday 14th April
Finally next Monday 15th there will be a mass blockade of Faslane and supporting demonstration
Jonathan Russell Chair of Aberdeen and District Campaign for Nuclear Disarmament stated:
"There are many reasons to get involved in particular abhorrence of Nuclear weapons and their potential for mass slaughter and ultimately their ability destroy our planet. At a time of massive cuts in public spending the one obvious cut is that of the replacement for Trident, estimated by Greenpeace at £97 billion
"Whether you are for, against or undecided on the question of independence, the actions will foreground the question on whether we should have nuclear weapons in Scotland, the UK or, indeed, anywhere in the world. These actions will be the largest anti-nuclear demonstration in Scotland and blockade of Faslane since the 1980's"
Coaches will be going to the demonstration in Glasgow from Aberdeen on Saturday 13th April.
For further information please contact Jonathan Russell tel 01224 586435 mobile 07582456233 or via email: jhamiltonrussell@hotmail.co.uk