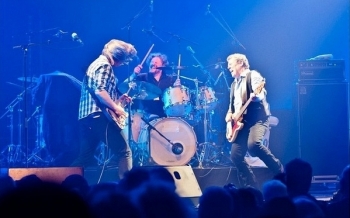 By
Suzanne Kelly.
This promises to be a proper celebration of the music of Rory Gallagher without being a tribute band, as some long-serving musicians band together as friends to create the Band of Friends.
Original band members and friends include,
GERRY McAVOY (Bass Guitar):
Played with Rory for 20 years; from 1971 to 1991 and because of this has a great insight into the man and his music. Gerry played on every album Rory ever made.
TED McKENNA (Drums):
Best known for his work with The Sensational Alex Harvey Band, drumming legend Ted McKenna started his career aged 16. After recording 9 albums, the band split in late '77 and Ted continued his drumming career with a series of outstanding musicians; Rory Gallagher, Greg Lake (ELP), Gary Moore, German guitar hero Michael Schenker and Ian Gillan (Deep Purple).
Although primarily known as a rock musician, Ted has also worked with jazz maestro John Etheridge, Juno Award-winning American Canadian blues guitarist Amos Garrett and Womack and Womack!
MARCEL SCHERPENZEEL (Guitar/Vocals) :
Grew up with Rory's music and Gerry is quoted as saying, "This is the closest guitarist to Rory you will ever hear".