Tayside troubadour Michael Marra performed at The Lemon Tree Cafe Bar on 24 November. Mike Gibb, local playwright and friend of Voice, was there, and here's what he made of it.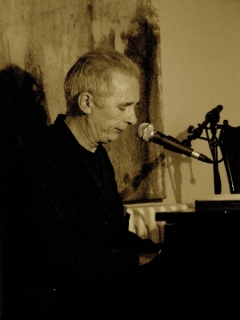 There was a time, not so long ago, when Michael Marra was described as 'Scotland's best kept secret'.
Fortunately, that's no longer the case as a packed Lemon Tree clearly displayed. It was obvious that the audience included a fair sprinkling of aficionados keen to listen, once again, to Marra's unbeatable blend of music and humour.
You may know most of the stories but he delivers them with such warm, natural charm that you simply can't help laughing along.
It was clear though, from the number who had to 'rehearse' the communal singing of Baps n Paste and Hermless, that there were many new faces there too. And after witnessing Marra's masterful performance, they'll be back next time Dundee's finest export ventures north – even forgiving him for his jibes at Aiberdeen in I Don't Like Methil and If Dundee Was Africa.
The two sets featured many of the finest moments from Michael's vast and varied repertoire. Yet he began with an inspired rendition of Yip Harburg and Jay Gorney's depression-era anthem Brother Can You Spare A Dime, very relevant given today's economic turmoil. There followed a masterclass in songwriting – brilliant lyrics married to fascinating tunes, perfectly performed on piano and guitar with hilarious introductions populated by characters from Michael's past, including The Bothy Cat, The Angry Cat, The Man With No Nickname and The Singing Moth.
Devotees' favourites abounded. The wonderful unaccompanied tribute to Dundee drunks, Muggie Sha', the imaginative linking of Mexican artist Frieda Kahlo with a less-salubrious Dundee drinking establishment in Freda Kahlo's Visit To The Tay Bridge Bar and his tribute to a castrated and wayward cat, Pious Porteous.
Then he treated us to Farlow, The Lonesome Death of Francis Clarke, Bob Dylan's Visit to Embra, Big Wide World Beyond The Seedlies, a hilarious testament to the perils of lonely hearts columns in He Said, She Said, and a new song, the ravishing Heaven's Hound, inspired by the Mississippi travels of long-time Marra friends from Kintore.
Michael left the stage to a tumultuous, well-deserved and heartfelt ovation. His encore paid tribute to his own songwriter heroes Gerry Rafferty, in Mary Skeffington, and a poignant treatment of Hoagy Carmichael's Rocking Chair, before he finally departed with the Marra anthem Hermless, to my mind the saddest comedy song I've heard in many a long day.
The audience could have stayed all night, so haste you back Michael. When he does return I'm sure all who attended will be there once again bringing friends with them.
Michael Marra is no longer Scotland's best kept secret. He is one of Scotland's greatest treasures.