Those irreverent scamps of Scotland the What?, in a live take on Harry Gordon's 'Fittie Folk, Kitty Folk', once cheekily ended a contemporary refrain with, "Harlaw, Pointlaw, Babbie Law and Denis Law", proof that the reputation of this scrawny blond loon from Printfield is as firmly scorched into the local psyche and folklore as those enduring, immovable, jutting-jawed Aberdeen landmarks. This is all the more impressive considering that apart from his 55 appearances for Scotland, Law's football career was entirely spent in England and, briefly, Italy. Voice's David Innes reviews Denis Law: My Life In Football.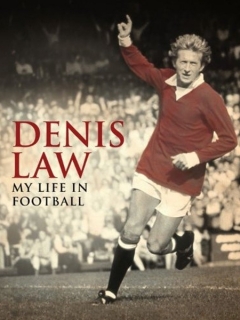 I have to admit that I was first disappointed when I picked up
My Life In Football
. I did not know that it was a pictorial retrospective of Law's life and career, expecting it to be an update of his previous biography
The King
.
It is only on the inner frontispiece that the alternative title My Life In Pictures is shown. There is also a Scottish Edition available, although there is no indication how this differs from the edition sent to Voice for review.
Do not let this put you off if you are a fan of the formerly Beautiful Game, however.
Law, in partnership with Ivan Ponting, has selected almost a thousand photographs, ranging from his gawky, bespectacled Kittybrewster schooldays in the late 1940s to contemporary images, showing one of the game's elder statesmen happy and relaxed in well-deserved retirement.
In between, there are some stunning action images captured by the cream of the world's sports photographers during football's golden era. Unfortunately, the photo credits are only given to the image owners in the book's acknowledgment appendix, as it would provide fellow obsessives with months of joy tracking down and drinking in the magnificent portfolios of the snappers whose work is featured.
Each image has been captioned by Law, and although he and his editor will have had access to historical statistics and tele-visual resources to inform these mini-narratives, there is little doubt that Law's own memory has played its part in writing the captions.
The detail proves that his memory remains as sharp as those deadly penalty box reflexes were when this legend was the goal area nemesis of rugged, brutish defenders, when football was tough and hard and its physicality celebrated as a challenge to the skilful and brave. One cannot imagine Law 'simulating' to gain a penalty under a robust assault by Chopper Harris, Jackie Charlton or Norman Hunter. That would have been an admission of defeat, of weakness, and viewed as an unworthy, cowardly way of gaining a tarnished advantage.
My Life In Football is unashamedly for football fans, so does not set out to philosophise about the game or give deep insights into the consciousness of one of the finest footballers of all time.
The captions, the narrative if you will, are therefore non-controversial and written in the ubiquitous ribbing, deprecating style, an incessant feature of football in dressing rooms at every level in the UK and which are a bit wearing unless you happen to be part of it.
The same can be said of the contributions made by Law's fellow protagonists in the images, Paddy Crerand, Bobby Charlton, the late George Best and a variety of other teammates and rivals, but behind the mickey-taking, the comments are made with obvious affection and respect for Law's outrageous ability.
This is a coffee table book, designed for repeated reference, packed with magical memories for those who had the privilege of living through the era when supremely-gifted craftsmen such as Denis Law made football, when it was The People's Game, exciting, compelling and the best possible release from stupid, stressful reality.
It is also a worthy historical tome which will help inform those who believe that football began with Serie A, La Liga and the Premiership and the out-of-proportion sums of money falsely keeping such structures afloat.
Denis Law: My Life In Football (Scottish-edition)  
Simon and Schuster.
ISBN 978-0-85720-084-6.
250 pages.
£25.