Ever-mindful of the need for Voice's readership to get their letters up the lum shortly, David Innes tries a lucky dip in his book review in-tray and picks out:
The Management – Scotland's Great Football Bosses by Michael Grant and Rob Robertson. Birlinn. 418 pages. £18.99.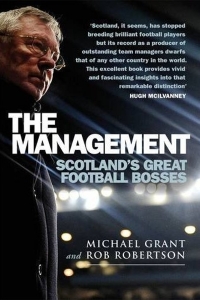 When it comes to fitba literature, a term which itself looks like an oxymoron, I can normally race through books in the manner of a marauding Arthur Graham terrorising First Division full backs in 1971. The Management does not lend itself to such cursory treatment.
Grant and Robertson are proper journalists, you see. They have pride in their craft, a genuine love for their subject and back up their writing with well-researched fact-based insights rather than red top reader-baiting populist conjecture. This is a serious work which demands your attention.
The premise is that Scotland, diminutive in population and hardly a world fitba power despite our often inflated boasts, has produced far more than its fair share of iconic managers with trophy hauls and reputations to match. The Management doesn't stop there. The authors analyse these great figures' shared backgrounds in mining, heavy engineering and working class hardship and conclude that the trust, comradeship and leadership skills forged in these often brutal environments provided the ideal grounding for commanding respect in the dressing room and on the training pitch.
Whilst The Management gives deserved coverage of the careers, personalities and backgrounds of the giants – Busby, Shankly, Stein and Ferguson – Grant and Robertson are not tempted to leave it at that.
Who, beyond those Old Firm fans who have mastered the art of reading, knows all that much about Parkhead stalwart Willie Maley's 52 (aye, that's fifty two) years in charge of Celtic, or Bill Struth's benign dictatorship of the mid twentieth century Ibrox monolith? Who was George Ramsay and why does Aston Villa have a lion rampant on its club crest? What IS 'The Largs Mafia', and why is it regarded disdainfully in Scotland by the hard of thinking whilst it's revered throughout Europe and beyond?
Others, regarded as minor footnotes in fitba folklore, are also featured.  Although almost viewed as caricatures due to their public images, sketches of John Lambie, Jim Leishman and our own blessed Ally McLeod show that these guys were no fools, that they had a deep understanding of the game, stoical resilience, but an innate ability to laugh at themselves and not take the world too seriously. It's only a game, right?
There are laugh out loud moments too. Who could possibly suppress a hysterical hoot at the mental image of Dons-era Fergie, raging in the away dressing room at Forfar at half time, telling a reserve player,"Get those fucking pants off your head", not realising that it was his own trashing of a laundry basket that had caused the kecks to land on the loon and that he was too terrified to remove them?
This is a serious work which demands your attention
I would also have given a sizeable wedge to charity to have witnessed Jim Traynor's riposte on 'shite' and 'socialism' to a bullying Graeme Souness as Traynor was barred from Ibrox press conferences for refusing to tow the party line.
The Management is several cuts above the average ghost-written, bland memoirs typical of players and managers who feel they have something to offer us. For those who demand higher standards and a cerebral take on some huge personalities, it's an essential volume.