Deborah Bonham's new album Spirit is out, she and the band have taken to the road to promote it in the UK and Europe. Suzanne Kelly and Julie Thompson saw the show at the Green Hotel in Kinross. Photos by Julie Thompson.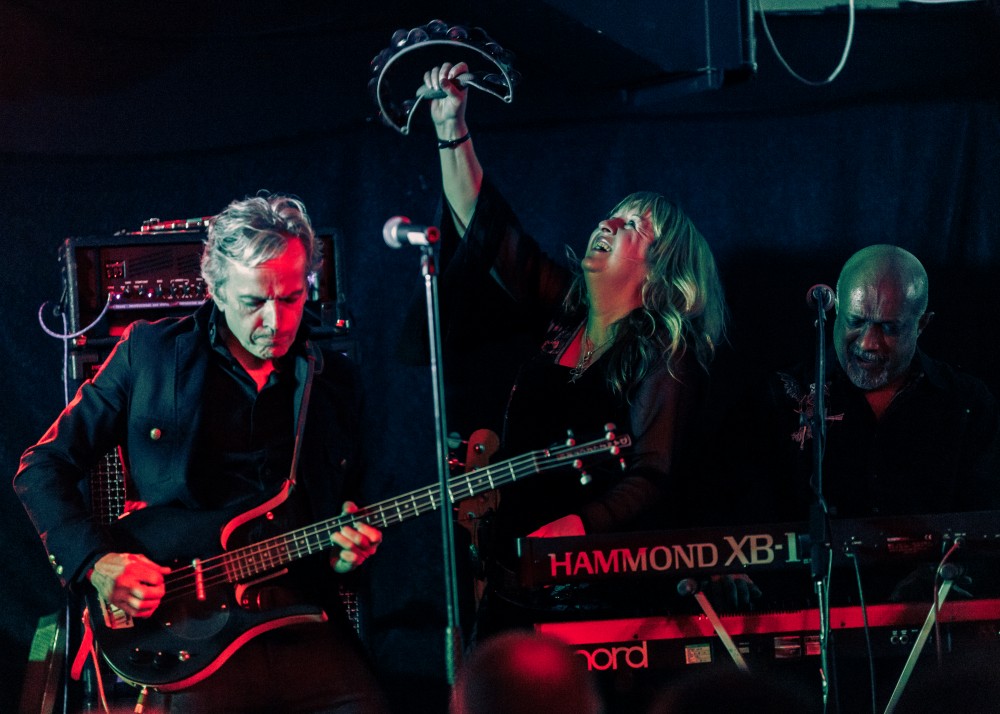 There are reasons to see your favourite performers live.
For one thing you quickly separate the studio-invented acts that can't perform live rather quickly from the dedicated artists who are musicians first. Of these, there are a small number of people who transcend their recorded music and come alive onstage.
Their lives shows are always refreshing and unique; they make every show feel new and every audience feel special. This is true of Deborah Bonham and the musicians in her band.
When I learned Deborah Bonham would be playing Kinross, I knew I had to be there. This was to be the third time I'd see her and the band. The first time I saw her was in Chichester, doing an intimate charity night for Willows and a local dogs' charity. She shared the bill with Willows' patron and Bad Company/Free/The Firm legend, Paul Rodgers.
Rodgers, his wife Cynthia, Deborah Bonham and her extended family, are ardent animal lovers, and the combined efforts of the performers and their families created an electric atmosphere. Paul Rodgers was brilliant, but I'd not expected the emotional rollercoaster ride Bonham gave us.
Even those who were familiar with her material, such as Lorraine Robertson and her husband from Aberdeenshire – were still struck by the emotional outpourings of Bonham's performance. Her personal triumphs and trials inform her writing and vocals. When Bonham sang of lost loves and lost relatives, there might have been a few dry eyes in the house – but not many. The band was playing music in an industrial shed that deserved to be heard in the Albert Hall.
For my part I only had my meagre camera phone, which was not up to the task of capturing any of the performances that night; I knew I had to get Julie to photograph these people.
It would be one thing being on your best performance to impress Paul Rodgers when in a hall filled with music business professionals and your families; would she and the band be consistently on form elsewhere? Material such as 'No Angel' requires the strength of a Janis Joplin (Bonham evoked Joplin in the best possible way – I think she's somehow she must be related to Plant and Joplin); how consistently well performed would or could it be?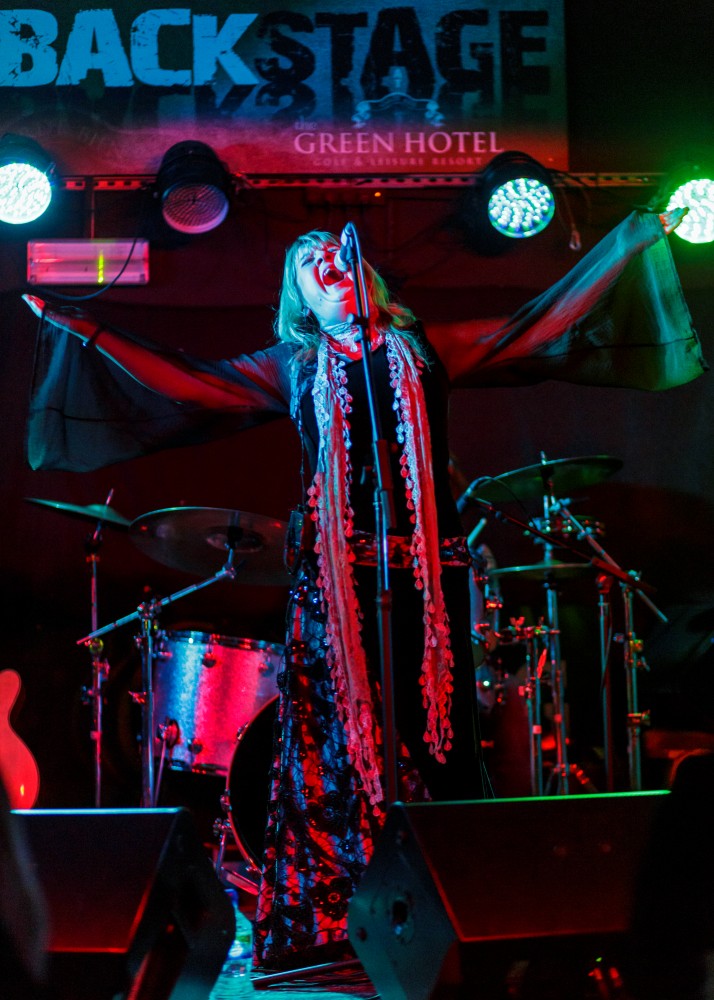 Her ode to her family members who have passed on, The Old Hyde' (about John Bonham's beloved farm) got many audience members (including me) emotional that first night and at a later show in London even when I knew what was coming; how would this song translate to a fairly lengthy spell on the road? Exhausting to perform, emotionally draining and usually performed towards the end of a demanding set, this work sets a very high beam.
When I saw Lorraine at the Green Hotel, she explained that she goes to see Deborah perform as often as she can, and that the power and intensity are always there.
She clearly can't get enough, and indeed even after seeing Bonham for many years now (first at a country fair on the same bill as Robert Plant); tonight's show still got Lorraine choked up.
A black and white photograph of John Bonham at his kit with a triumphant arm stretched overhead looked out on the stage in the venue that night; when it was time for Deborah to do 'The Old Hyde' – it was almost too much for her (and the audience) to look at them side by side. Keeping it fresh? It was as if she'd never done the song live before in terms of emotional content.
The touring band are Bonham on vocals and acoustic guitar occasionally; her partner Peter Bullick on guitars and mandolin (his fills and solos are accomplished but fresh, and I particularly like his slide guitar); keyboard player (and long-lost friend of mine) Gerard Louis; on bass Ian Rowley and percussionist Rich Newman. Newman particularly came to the fore when called upon to repeat John Bonham's percussion in 'Rock and Roll' – if anyone has the right to cover this track, then it's this band.
After the emotional (if not spiritual) ups and downs of the two sets, it was a superb, energizing way to end. And so it was that everyone had more drinks in the comfortable Backstage Bar, and those who stayed at the hotel enjoyed a happy session which lasted a wee few hours.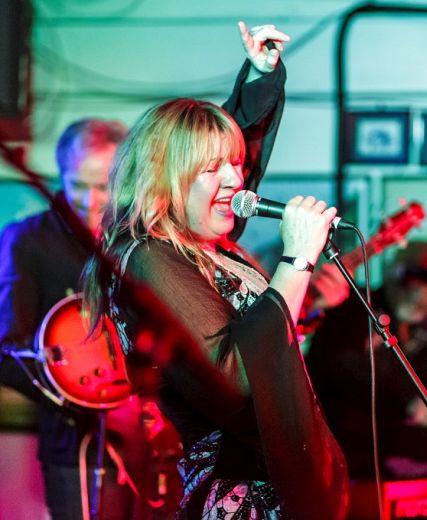 What a great venue for music. (All sorts of offers appeared when I booked – discount champagne; discount beauty treatments; late checkout. They must have seen me coming).
As to the Green Hotel's Backstage bar – well. It's a paradise of memorabilia from every guitar-based act you can think of, and plenty you can't.
There may be a spare inch of wall space not covered by guitars, posters or mouth-watering autographed memorabilia of some sort, but I didn't' find it.
Backstage is David Mundell's labour of love, and the bill of artists who come here to play intimate shows is impressive, and growing more so by the day.
It's a must see stop on any pilgrimage for lovers of guitar; an old Gibson of Jimmy Page's peers out at you from behind the bar as you order your jack and coke. It's a rock haven created by a devotee.
http://www.mundellmusic.com/gigs_green_hotel.php
The new album Spirit is here. My favourite tracks so far are the title track, 'Take Me Down' with its country music romantic flavour and 'Fly' which is nothing short of empowering for us women of a certain age; it speaks of freedom and escape. Whether the songs are going in a blues (No Angel), rock, or country-esque direction (Take Me Down), the sound of Bonham and the band is unique and memorable.
I'll definitely be seeing more of Lorraine Robertson, because like her, I'll want to see more of this band. Soon.
www.deborahbonham.com

*STOP PRESS* Deborah Bonham donated ten signed copies of her new album to Willows Animal Sanctuary, which is having its first open day on Friday 5 April. More info here http://www.willowsanimals.com/