Richard Thompson returns with a brand new, guitar-driven record. "Electric" is released by Proper Records on Monday February 11th. Richard, who is a frequent visitor to Aberdeenshire, sent Aberdeen Voice an advance copy. Those who've heard it so far love it.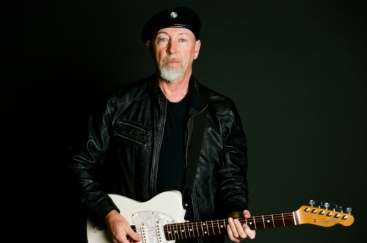 By
Suzanne Kelly.
Richard's Electric Trio will be taking to the road for a major UK tour on Wednesday February 20th, and will tour the USA starting in March.
The tour reaches Scotland on Thursday 28 Feb with a concert at Edinburgh's Usher Hall.
Electric
After taking the bold step of recording his last album of new songs live, when it came to recording "Electric", Thompson turned to Buddy Miller (Robert Plant's Band Of Joy, Solomon Burke, Emmylou Harris, Patty Griffin) to produce it, recording at Miller's home studio in Nashville, Tennessee.
Miller, who is renowned himself for his guitar skills recently told Rolling Stone:
"I played along on the record, playing rhythm guitar for him, and I got a two-week guitar lesson while he camped out in my house."
The disc was recorded as an electric trio with Thompson, drummer Michael Jerome and bassist Taras Prodaniuk, who both sing background vocals. Jerome and Prodaniuk formed part of the band which recorded and toured Thompson's UK Top Twenty album "Dream Attic", released in August 2010.
They make up the trio with Thompson on his forthcoming UK dates, his first extensive tour in two years.
Guests on "Electric"   include the legendary Alison Krauss, who joins Thompson on "The Snow Goose". English singer-songwriter Siobhan Maher Kennedy, formerly with River City People and now resident in Nashville, adds vocals on several tracks as well. Fiddle great Stuart Duncan also plays on the record: one of America's leading bluegrass musicians, he played on recent albums by Robert Plant/Alison Krauss and Elvis Costello and will be familiar to UK audiences from BBC4's Transatlantic Sessions.
Richard Thompson himself commented that:
"We did it ridiculously quickly. But it sounds great. It turned out surprisingly funky, sort of a new genre – folk-funk. It's quite snappy, somewhere between Judy Collins and Bootsy Collins."
"Electric"  will be released as a Standard CD, Deluxe two–disc set and on 180 gram vinyl.
1. Stony Ground
2. Salford Sunday
3. Sally B
4. Stuck On The Treadmill
5. My Enemy
6. Good Things Happen To Bad People
7. Where's Home?
8. Another Small Thing In Her Favour
9. Straight And Narrow
10. The Snow Goose
11. Saving The Good Stuff For You
Recipient of a BBC Lifetime Achievement Award, Mojo's Les Paul Award and curator of the prestigious Meltdown Festival at the Southbank in 2010, Thompson was most recently honoured with a Lifetime Achievement Award for Songwriting by the Americana Music Association.
"Electric"  was recorded earlier this year, 2012 marking the fortieth anniversary of Richard Thompson's debut solo album, "Henry The Human Fly". Thompson has now released some forty albums, played on countless other classic recordings, and written more than 400 songs, some of which have been covered by R.E.M., Robert Plant, Elvis Costello, The Futureheads, Bonnie Raitt, Dinosaur Jr., Linda Ronstadt, Los Lobos, and many more.
Rolling Stone has hailed him as "a perennial dark horse contender for the title of greatest living rock guitarist."
The Independent recently described him as "probably the best guitarist this country has produced, an utterly sui generis talent…"
Thompson says of his fellow trio members:
"Michael Jerome has been with me for about 12 years. He's actually from Texas; he is a great musician, able to respond to anything that's put in front of him.  Taras Prodaniuk worked a lot with Dwight Yoakam, and more recently with Lucinda Williams. His roots may be in country music, but he's another extremely gifted and versatile musician."
For more information and to pre-order the album visit …
http://proper-records.co.uk/richardthompson-electric/
For an extensive biography visit: www.richardthompson-music.com
For tickets to concert at Usher Hall, Edinburgh, Telephone 0131 228 1155.
Comments enabled – see comments box below. Note, all comments will be moderated.