By Charlie Abel.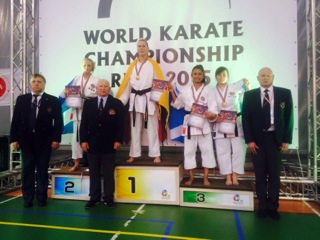 Aberdeen, and Scotland can once again hold it's head high on the international stage of Karate having just lifted another bag of medals at the WKC World Karate Championships, this time from Riga, Latvia at the weekend.
Ronnie Watt's NKF team have never disappointed when it comes to putting Scotland on the world's Karate map.
The team themselves hosted the WKC World Championships in Aberdeen in 2000 at the AECC, said to have been one of the most memorable championships to date.
Ronnie, already a legend himself, is no stranger to the limelight having won numerous titles, championships, medals, awards, an OBE from the Queen, The Order of the Rising Sun and is one of the few genuine 8th Dan black belts.
This year Ronnie will celebrate his 50 years of involvement in Karate! The medals won by the squad are a testament to the quality of the Karate they are taught.
The NKF squad have returned from the WKC World Karate Championships in Riga, Latvia held on 16th and 17th of May. Nearly 500 Karate-ka from 19 countries took part.
After lots of hard training at home under the careful supervision of chief instructor (Ronnie Watt 8th Dan) and squad coach (Jock Calder 6th Dan) the NKF Scotland team took home 9 medals from the competition, including 1 gold medal, 4 silver and 4 bronze. Quite an amazing feat for a small self-funding club, and a proud moment for Scottish Karate.
The Championships began with a special training session specifically for the referees and judges on the specific techniques and criteria to be considered and assessed during the championships.
Ronnie Watt was invited as the special guest speaker and instructor to the seminar where he explained and demonstrated to 50 referees and judges what they should be looking for in making their judgements.
After 3 years of hard work Chris Davidson, one of the senior club members also became a fully qualified WKC referee at the seminar in Riga. No easy feat!
It's been a great year so for the squad having won so many medals at Riga. Preparations are now under way for the next festival the club are hosting in Aberdeen in June, and for the next major international competition in France in October where they hope to repeat their success
Results:
Nissara Kirk – 1 gold and 1 bronze
Chloe Calder- 2 x silver.
Emma Stuart  – 1 bronze
Girls team (above)- took a further 2 bronze medals in separate events
John McInnes took silver in Kumite
Mens team took silver in team Kumite and narrowly missed out on a medal for the team Kata against stiff competition.
Anyone interested in training Karate should call Aberdeen 734607 for more information.
Said Chief Instructor Ronnie Watt:
"We are always keen to attract new members of all ages."
The club meet in Aberdeen, Cults, Kintore and Inverurie.
Comments enabled – see comments box below. Note, all comments will be moderated.