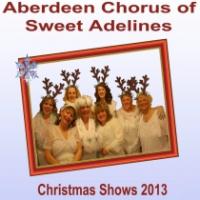 With thanks to Linda Allan.
A few weeks ago The Aberdeen Chorus of Sweet Adelines had to come to terms with two devastating blows. Not only was the weekly rehearsal venue no longer available but that this also meant the loss of a venue for one of the Christmas Shows.
So the search began to find new premises – not an easy task when the Chorus numbers seventy five ladies and the group also requires storage space for items such as electronic equipment and large complex tiered staging.
Despite this major disruption to the normally smooth running of weekly rehearsals, the Chorus has risen to the challenge to produce a Christmas Show again this year.