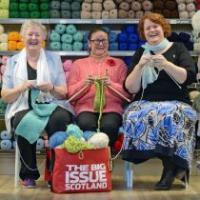 With thanks to Jennifer Kelly, Tricker PR.
A cosier winter is in sight for homeless people across Scotland this winter, thanks to the Scottish Women's Institutes (SWI) picking up their knitting needles and casting on in support of a national campaign to help make a difference to the lives of Big Issue vendors.
As Scotland's largest women's organisation, and with many members talented sewers and knitters, the SWI is throwing its weight behind The Big Issue Foundation's Big Knitathon to ensure that this year's effort is the biggest and best to date.
Throughout November, the women will gather to knit garments, raise funds and hold events, all of which will benefit homeless people in Scotland.