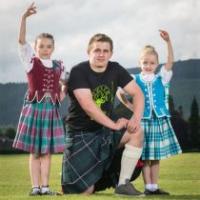 Forget cabers and stones – local Aboyne strongman James is practicing his weightlifting with some real, live Highland dancers. With thanks to Eoin Smith.
NEWSLINE MEDIA LIMITED To celebrate the launch of this year's Aboyne Highland Games official programme, local Aboyne weightlifter, James Dawkins, 21, put his super-human strength to the test by lifting a pair of highland dancers, Amy Lawson –Anderson, 6, and Kirsty Dundas, 9.
The girls, also from Aboyne, used the opportunity to demonstrate their impressive balancing skills by holding their dance poses perfectly on the palms of James's hands.
The young strongman made balancing the girls look like a walk in the park and as if he could in fact toss them like a caber.