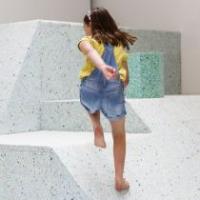 With thanks to John Morrison.
Peacock Visual Arts is delighted to host The Brutalist Playground by recent Turner Prize winners Assemble, and artist Simon Terrill, exploring post-war design for play, as part of Look Again Visual Art & Design Festival.
Brutalism was an architectural movement of the 1950s-70s, which aligned with a new socialist agenda.
Buildings were fortress-like in form, often of grand monolithic scale and designed to bring function to the flow of people populating them.