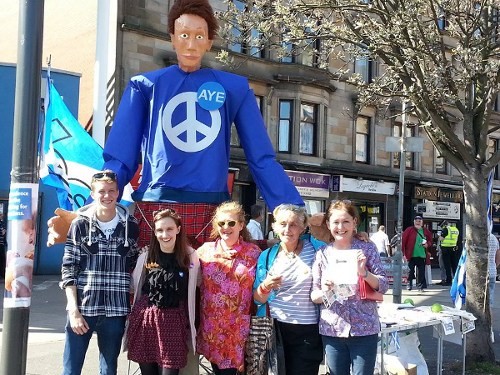 With thanks to Jonathan Russell, Aberdeen CND.
Scottish Campaign for Nuclear Disarmament's giant, Big Sandy, will be visiting Aberdeen to encourage people to vote Yes between 2-4pm this Saturday 6th September in the square outside Marks and Spencer's.
Big Sandy is a ten feet tall puppet. He first appeared at the West End Festival in Glasgow in June.
Since then he has helped the Yes campaign on the streets and at major public events all across Scotland.
Jonathan Russell Chair of Aberdeen and District Campaign for Nuclear Disarmament stated:
"Central to the Independence debate is the getting rid of Nuclear Weapons from Scottish Soil. A non-nuclear Scotland will also be enshrined in a Scottish Constitution Getting rid of Nuclear weapons from Scotland will make it exceedingly difficult for the remaining UK to place the existing or new era missiles anywhere in the remaining UK "
Also attending on Saturday, North East MSP Christian Allard said:
"Weapons of mass destruction have no place in a modern Scotland. Labour and the coalition parties at Westminster are committed to the irrational and costly renewal of the UK's nuclear weapons system – only a Yes vote in September will guarantee Scottish waters are Trident free.  I urge any undecided voters to come along to the St Nicholas Centre on Saturday and learn about the opportunities for an independent Scotland."
For more information contact:
John Ainslie, Coordinator, Scottish CND,
john.ainslie@banthebomb.org
0141 357 1529 07442 500476
or Jonathan Russell, Aberdeen CND
jhamiltonrussell@hotmail.co.uk
tel 01224 586435
Mobile 07582456233
Comments enabled – see comments box below. Note, all comments will be moderated.
[Aberdeen Voice accepts and welcomes contributions from all sides/angles pertaining to any issue. Views and opinions expressed in any article are entirely those of the writer/contributor, and inclusion in our publication does not constitute support or endorsement of these by Aberdeen Voice as an organisation or any of its team members.]