Aberdeen Voice reporter Suzanne Kelly attempts photography around Union Terrace Gardens Design Exhibition, only to be threatened with police and forced to delete some photos from phone.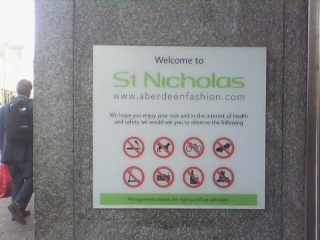 Last week a news story showed just how far security had over-ridden basic civil rights, as a father from Glasgow was apparently cautioned by both private shopping mall security and police. He had taken a photo of his daughter atop a child's seat within the confines of the mall in question. It seems signs warned shoppers against taking photos, and this otherwise perfectly harmless photo wound up being a cause celebre.

A Facebook campaign to boycott the mall was organised, and the suddenly contrite shopping mall seemed to have changed its colours.
Perhaps Apardion Security (motto: "job done") which work Aberdeen's Academy Shopping mall and Aberdeen City Council didn't get wind of this story. 
Despite absolutely no signs prohibiting photography being visible in the mall itself – despite my taking a photo while standing on a public street of a poster – I was followed by security from one mall to the next, cornered, threatened with police and legal action being implied –  and forced to delete some (but not all) photos from my phone:  from a guard who refused to say who he was or who had given him this instruction to stop photographers.
I had spent a pleasant morning at an event in town – Prince Charles had arrived to unveil and dedicate a statue erected to commemorate the Gordon Highlanders.  It was a great  morning, a well-attended event, and provided a good opportunity to talk to Gordon Highlanders, who were all happy to talk about this now legendary unit, sadly resigned to history in 1994.
At the end of the event, I bumped into two separate people who had been taken aback by the over-enthusiasm of security guards at the Academy Shopping Mall. 
The mall, with several vacant shops, is to be the home of the public exhibition of the six designs shortlisted to win a competition to replace the city's Victorian Union Terrace Gardens with some form of design centre/parking/shopping/'cultural' space. 
The actual competition shop is not within the Mall itself but in the old 'Pier' outlet on Belmont Street, formerly a Presbyterian Church which houses a tribute to Mary Slessor. Aberdeen's other memorial to Mary Slessor lies in Union Terrace Gardens and would be obliterated by any new design. 
Many journalists have written to reflect the public's dismay at the proposal to change the gardens.  They are the remains of the Denburn Valley as landscaped in Victorian times.  They are the only city-centre green park and contain listed, ancient trees – some of the few trees in the City Centre, seen as vital against air pollution. 
The City it should be rememembered is nearly £500 million in debt, and does not have money for this project, estimated to cost upwards of £140 million. 
A local millionaire has offered £50 million to change the gardens into something else, an anonymous donor wants to give another £5 million, and the rest will come from Tax Incremental Funding if the City succeeds in a bid to be one of the pilots of the TIF scheme.  If TIF is secured, local retailers will pay increased rates if the area is commercially successful (so trees are not exactly what's wanted).  And as is suspected, such increased taxes on the retailer will be passed onto the consumer in the final analysis.
With the tales of the two people being harassed, I went to Belmont Street where the space for the exhibitions has a large glass front. 
I took a photograph of a long, thin poster advising that the public display of the shortlisted designs would be forthcoming.  I also stood on the  steps of the shop front (where absolutely no signage warned me against taking photos), and took a single shot of the poorly draped glass window and the paltry displays that were being set up.   Then I left.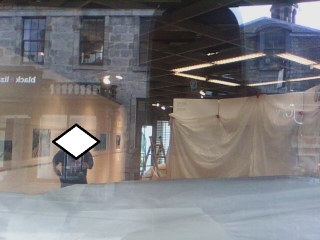 I went inside the Academy shopping centre itself, and noticed a poster saying what shops were in the Academy.  This poster, on a round pillar, advised that several of the shops were vacant.

I thought that would be a good photo.

The premise of those who want to build in Union Terrace Gardens is that shops will revitalise Aberdeen. Aberdeen's problem, as any first-year economic student would confirm, is not a lack of shop spaces.

Vacant shops are found all across the city centre, as large multinationals offering cheap goods (often made abroad) are taking customers who in more stable economic times would probably have preferred to buy from local shops.

As I was considering this shot I had my mobile in my hand, and was suddenly very aware of a security guard eyeing me as if I were a criminal.  I made a quick call to a friend to say I was going to Marks & Spencer, and I left.
you took photos of an exhibition which isn't even open to the public yet
I had by now taken three photos – one of the poster visible to all the world on Belmont Street; one standing on the steps of the shop where the exhibition would be, and one inside the academy showing the rear of the exhibition area.
Upon entering the Bon Accord & St Nicholas Mall, I was immediately stopped by a security guard.  The
dialogue was along these lines, but this is not verbatim (text in blue is the writer):
"Are you the woman who took photos inside the Academy shopping centre?"
"I was on my phone"
"You were seen taking photos and you are not allowed to"
"I didn't see any signs – who says photos aren't allowed?"
"you took photos of an exhibition which isn't even open to the public yet"
"I took a photo of a poster when standing on Belmont Street"
"you also took photos through a window"
"Yes I did – where does it say I can't do this?"
"If you don't delete those photos right now I am going to call the police"
"I might call the police myself"
"There is no sign telling me I can't take pictures"
"we can't have a sign up telling you everything that's not allowed"
(at this point the guard, in a deep blue t-shirt with photo ID spoke into his radio)
"This lady is being difficult" he told the person on the other end
"Look- I'll show you my photos, and you can tell me which ones to delete, OK"
We then looked at my photos.  There were only three.
"Look at this one" I said "you can't even tell what's behind the window at all"
The guard didn't make me delete this.
"And here's another photo – do I need to delete this?"
The guard did not reply, and I did not delete these photos.  We then came to the photo of the poster
"You have taken a photo of an exhibition which is not even open yet"
"I took this photo while standing on Belmont Street in public – why do I have to delete that?"
"We will call the police"
"What is your name – let me see your ID"
(at this point the man in his 40s, balding, slightly chubby and about 5'5 or so turned his photo ID  badge around so I could not see it)
"I think  your surname started with 'E'"  "My name is Suzanne"
"I don't need to know who you are and you don't need to know who I am" he cut across me.
I deleted the phone photo he told me to.
I had moved – deliberately – outside the shopping centre and stood by the very clear, permanent sign which had symbols of prohibited activities.  In the heat of the moment I noted 'no radios' 'no eating' 'no skateboarding' – but no 'no photography' sign.  I mentioned this to the guard.
"We are in a public place now, arent' we?" I asked "yes"
"Well, then I think I'd better take your picture as you aren't going to tell me your name"
At this point I took a photo of his back as he scurried away, and another of the prohibited activities poster.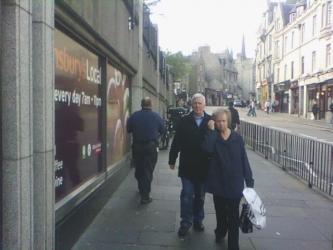 The public are largely against borrowing money to build in Union Terrace Gardens, this was reflected in a public consultation.
Those who are determined that something should go there now have no fewer than 9 entities – either specific vehicles invented for the project, private companies, the quango Scottish Enterprise, and the local economic forum ACSEF promoting the project.  There is also a public relations company (which also apparently represents the Wood Family Trust, involved in the project), the Big Partnership.
It seems as if one or some of these entities are very keen that no one should get any press on the exhibition, certainly no photographs.
Perhaps they will be pleased with the public relations the heavy-handed security measures have provoked.  Perhaps not.
But if those behind the Union Terrace Gardens 'design' project do not want the poster  advertising the event photographed, may I kindly and gently suggest it not be posted on a public street?
______________________________
At the time of publishing, the shopping mall's staff are unable to comment, and suggest I contact the manager on Monday.  Two security guards are apparently standing in front of the storefront on Belmont Street this afternoon, and are reportedly stopping anyone taking any photos.