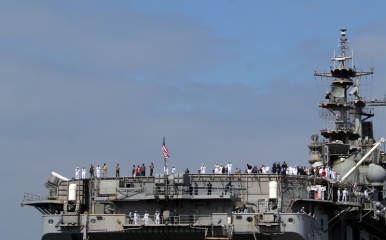 With thanks to
Dave Watt.
There have been twenty-three acknowledged serious nuclear accidents to befall the worlds U.S. and Soviet nuclear forces.
There have been 16 crashes involving British nuclear submarines since 1998.
Despite this there appears to be a certain amount of complacency as regards the nuclear submarine base at Holy Loch on the Clyde.
The ex-Armed Forces Minister Dr John Reid said in letters to MPs:
"It is planned that potassium iodate tablets would be distributed before any release of radioactive material had occurred at a time determined by monitoring the condition of the reactor".
"We will always get advanced warning if something was to go wrong" – Andy Moore MoD
"There has never been an accident involving a nuclear powered submarine reactor which has led to, or come anywhere near leading to, any release of radioactive contamination to the environment" – Dr John Reid, ex-Armed Forces Minister
Aberdeen CND presents :
A Nuclear Incident on the Clyde – 2nd Jan 2012 
At the NEXT ABERDEEN CND MEETING
MONDAY 9th January-  7.30 p.m. 
Belmont Picture House, Belmont St, Aberdeen
in MEETING ROOM ON TOP FLOOR. 
  Image credit © Rhouck | Dreamstime.com