David Innes reviews St Valéry And Its Aftermath by Stewart Mitchell.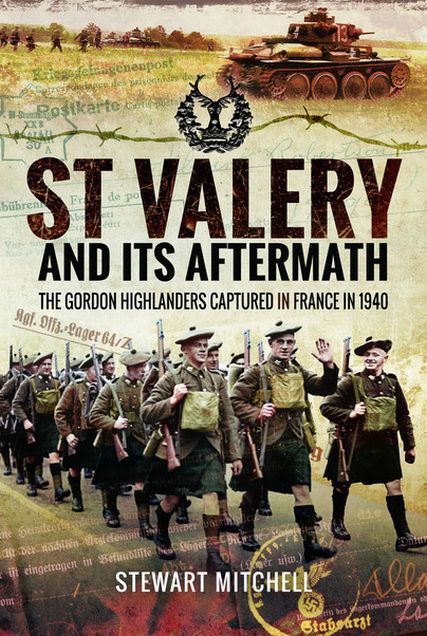 Although it is almost inevitable that events are overtaken by time, and that the effect of history on localities dissipates, the name St Valéry-en-Caux, a small Normandy fishing village, continues to resonate in NE Scotland, even 77 years on from the scenes that accord that tiny French port a special place in Scottish military history.
It is said that there is scarcely an NE family which hasn't been touched in some way by the events of June 1940, the surrender of the stranded and embattled 51st (Highland) Division, and the incarceration of thousands of Scottish soldiers in prisoner of war camps for the duration of the Second World War.
These were our forgotten casualties of that conflict, and it was a gross unfairness and insult to these brave, fortitudinous men who suffered the privations of capture, forced march and imprisonment to be described as having enjoyed an Easy War.
Stewart Mitchell, who named the Gordon Highlanders' Museum's excellent 2011 POW exhibition The Easy War, re-tells the story of the lead-up to Dunkirk and St Valéry, using personal accounts, some of which are now in the public domain for the first time, without resorting to military tactical terminology and technical jargon, often confusing to the lay reader.
Those of us who have had a long fascination with this episode of military and social history will have read accounts of the 51st's manoeuvres, capture, treatment and liberation and of the social outcomes of returning home after half a decade of imprisonment. Tony Rennell, Sean Longden, Saul David, Alan Allport, Julie Summers, and Banffshire's own Charles Morrison have all contributed to building a picture of a time of uncertainty, fortitude and, all too often, personal and familial misfortune.
It is in the re-telling of personal accounts that Mitchell excels, and he succeeds in making St Valéry more than just another military history. We hear of regular soldiers, Territorials and militiamen called up to serve when war was declared in September 1939, their backstories often of innocent city, village and country loons thrown into the jaws of an unforgiving mechanised conflict, and losing some of their most promising youthful years behind barbed wire.
Yet, there are personal recollections of derring-do, heroism, resourcefulness, smeddum and survival against heavily-stacked odds, told in fitting tribute to often forgotten men.
The volume's appendix is unique in imbuing a personal touch to what is a harrowing, yet spirit-affirming story. Mitchell's painstaking research has seen him identify from military records, every Gordon Highlander captured or killed in France in 1940.
My own maternal grandfather, army number 2870474 among the oldest of the Territorials called up at 37, who was 38 by the time of capture, and 44 before he was liberated, is included. That that saw my emotions well up 77 years after that fateful morning in Normandy, verifies that this a book that goes way beyond normal military history, as a chronicle of a part-generation of NE men. For that, it deserves your support.
Stewart Mitchell is making a generous contribution from the book's sales to the Gordon Highlanders' Museum Appeal. Please consider giving this splendid local cultural venue your support too.
STEWART MITCHELL
St Valéry And Its Aftermath
The Gordon Highlanders Captured In France In 1940
Pen & Sword Military
235 pp
Hardback ISBN 978 1 47388 658 2
£25.00
Comments enabled – see comments box below. Note, all comments will be moderated.