By David Innes.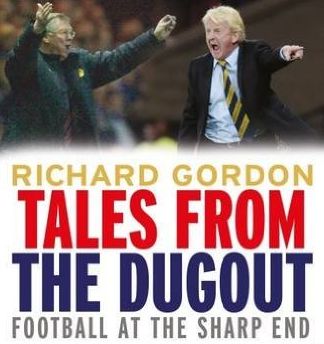 My direct exposure to pitchside relationships is limited to coaching and refereeing kids' games, and believe me, on occasions that could be unpleasant enough.
Ratchet what's at stake up to professional level, with bonuses, credibility and even continued employment at stake, and it's little wonder that Richard Gordon has chosen "the sharp end" to describe the passionate, angry, expletive-laden horn-locking that goes on in the innocent-sounding "technical area".
The germ of the idea for the book was planted in the author's head when interviewing Gordon Strachan, no less, for a previous book, and Sportsound's anchor man has amassed a collection of anecdotes from those involved – managers, coaches, referees – the tenor of which will be familiar to anyone who finds themselves, caught in the moment in the stands, transforming from mild-mannered, responsible citizen, in a split second, into a frothing, fulminating, cursing Mr Hyde.
Guilty as charged.
Whilst there's always the in-joke dressing room banter element to a number of these tales, there are also many genuine laugh-out-loud moments. The laughter is often in surprise at the identity of the narrator.
Who would have thought that outwardly-respectable Aberdeen alumni like John McMaster, Billy Stark, Scott Booth, and especially ex-gaffer Alex Smith, are capable of moments of frustrated irrationality, or that several of Scotland's leading referees deploy clever psychological humour to defuse verbal conflict about to escalate into physical exchanges? Examples? Oh, all right then.
Referee Kenny Clark, when he was fourth official as the Dons were being routed by Motherwell,
"Ebbe turns to me and says, 'I want to make a substitution'. I remind him I need the…numbers of the players going on and coming off so that I can input them into my electronic board. He…returns with the sheet, but it's only got the number of the player he wants to put on. I tell him I need to know who he wants subbed off, and he replies, 'You pick. They're all pish'."
Alex Smith (manager of Stirling Albion),
"We were playing Queens Park at Hampden and I was watching from the stand. Things weren't going well, and I was getting angrier and angrier, so I decided to make a change. I ran down the stairs…and jumped into the dugout shouting, 'Get Willie Irvine off, get him off'.
"I found myself face-to-face with the Queens Park coach, Eddie Hunter, who…didn't take kindly to me having got into the wrong one. 'Get the fuck out of my dugout!' was all he said. So I jumped back on to the track and ran along to our own one to make the substitution and I hear a couple of Albion fans from just behind calling out, 'Aye and you can fuck off out of that one as well Smith!'"
And there are hundreds more, giving insight to the pressures, dangers and humour (once it's died down) of situations that really shouldn't occur. After all, it's only a game, isn't it? Aye, right.
For your Christmas list, I think.
TALES FROM THE DUGOUT Football At The Sharp End by Richard Gordon
Black & White Publishing
ISBN 978-1-84502-989-0
208pp
£9.99