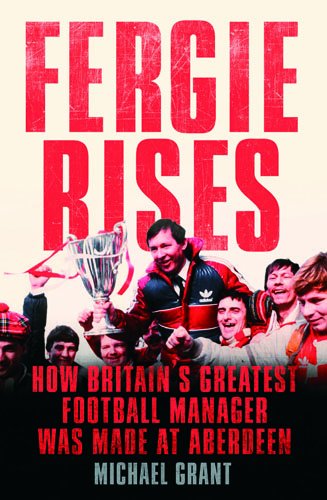 By David Innes.
I feel sorry for Aberdeen's intensely loyal and still proud younger generation of fans. In the same way as I would listen in awe to older relatives recount the 1947 Cup triumph and the 1955 title win, these young people can now only gain an insight to the triumphs of 35 years ago through dewy-eyed reminiscences of washed-up, ageing curmudgeons like me.
To them, and to those of us who were there, Fergie Rises may be almost biblical, as it tracks the UK's most successful-ever manager's genesis as he turned the Scottish and European game on its head during eight riotously-successful and controversy-packed years.
Wordsworth was probably a Barrow or Workington fan, but he predicted the 1980s for Dons fans,  'Bliss was it in that dawn to be alive, But to be young was very heaven.'
Michael Grant, Chief Football Writer at The Herald, has, for once, put aside his neutrality and written directly from his red heart about the most exciting time of our fitba lives.
Like his BBC colleague, Richard Gordon, Grant, on air, does not hide his allegiance, and whilst others purport to be fans of Partick Thistle or Dumbarton or St Mirren whilst toeing the media party line, the pair take the jibes in their stride and remain coolly professional, honest and unbiased. Fergie Rises has allowed this Highland loon the opportunity to cast aside neutrality and produce a labour of love.
The outline tale is familiar and bears no re-hashing here, but the author, as much out of interest as research, one imagines, has added significantly to the known narrative by interviewing those involved and several opponents of the era. With the benefit of elapsed time, the insights are fresh and new and the through-gritted-teeth admiration expressed by then bitter adversaries add a new dimension.
We weren't popular, having shattered the incestuous and expected duopoly of you-know-who, but where there was bitterness, there is now an appreciation of Sir Alex's single-mindedness in making Aberdeen the force that everyone feared, Scotland's most successful-ever European representatives.
But above all that, it is Grant's own passion that permeates and defines Fergie Rises and makes it the book that all of us would have loved to have written. Chapter titles like, 'Be arrogant, get at their bloody throats', 'Ipswich fall to the Jock Bastards' and 'This season's target is two trophies…minimum' give a flavour of the content and the author's personal buy-in.
Fergie Rises can rightfully take up position on your shelves next to your Leatherdale, Rickaby, Gordon and Webster tomes as an indispensible chronicle of the defining common sporting cause of NE Scotland.
Michael Grant will be signing copies of Fergie Rises at Waterstones, Union Street, Aberdeen on the evening of 27 August. We're hoping to arrange an interview with him too
FERGIE RISES
Michael Grant
Aurum Press
ISBN 978 1 78131 093 9
319pp
Comments enabled – see comments box below. Note, all comments will be moderated.
[Aberdeen Voice accepts and welcomes contributions from all sides/angles pertaining to any issue. Views and opinions expressed in any article are entirely those of the writer/contributor, and inclusion in our publication does not constitute support or endorsement of these by Aberdeen Voice as an organisation or any of its team members.]