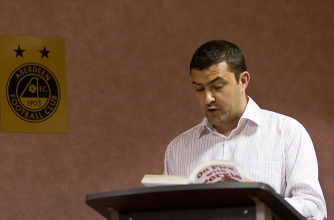 David Innes

presents Voice's historic first online competition….
Thanks to a generous offer from publishers Hachette, we have two signed copies of Stuart Donald's rather wonderful book On Fire With Fergie to give away as prizes, just in time for Christmas.
We reviewed it here https://aberdeenvoice.com/2010/08/on-fire-with-fergie/ after attending the book launch https://aberdeenvoice.com/2010/08/stuart-donald-charms-the-richard-donald/
We liked it a lot. So will you. In fact, why haven't you bought it already? Time's a bit tight, so the competition will be open for entry for one week only. Just use our contact form and send to the competition address,  with the subject of Footie Competition
So that we can remember him in happier circumstances:
Against which European opposition did fallen idol Mark McGhee score a Pittodrie hat trick in 1984's European Cup-Winners' Cup?
You'll need to include a home address so that we can post the book to you if you're a winner. And no, we can't post it down the fibre optic cable, you gype. We won't publish details other than your name, of course.
There, easier than Fix The Ball.
Two winners will be drawn from all the correct entries, and we'll announce the winners next Friday (17 December), give the publishers your details and hope that Santa arrives early.
All the usual rules apply – family members of Voice regulars aren't eligible to take part (sorry, Granny, you'll have to buy your own copy) and we're not open to bribery or coercion.
Good luck.