Last week, as Donald Trump arrived in Aberdeen ahead of his controversial honorary doctorate award from RGU, Aberdeen Voice was already busy drip-feeding leaked details of the scheduled time and place of the ceremony.
As many individuals and organisations pondered how to act on the information, one former Gordon's student wasted no time in laying the foundations for a course of action which would raise his profile beyond all- including his own- expectations.
If Andy Warhol is correct in that we will all have 15 minutes of fame in our lifetime, then we are pleased to extend John Russell's remaining credit to tell his story to Aberdeen Voice;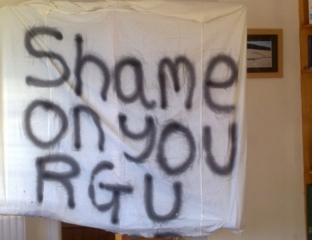 "Friday 8th of October 2010. For myself, a mad and memorable day. It all began earlier with a slightly tongue in cheek conversation on Facebook. I had suggested that as I lived across from RGU, I should hang a banner to display my opposition to Trump's award and his threat to evict families from their homes.
I attended RGU – or RGIT as it was then known – many years ago, and feel that, compared to myself and my fellow students, Donald had contributed very little of benefit to the citizens of Aberdeen. I was also ashamed that despite these dunes being a designated SSSI, Trump's plan was allowed to proceed.
The raw material for 2 banners was acquired from a charity shop and delivered to my house on the Thursday afternoon. The phrase "Shame on you RGU" popped into my head. I then added "Dump Trump" on the bottom of the larger banner. Job done.
I hung it out of my window at about 7am thinking to catch the morning traffic, some of whom would be lecturers and students arriving at RGU.
By 8am a police land rover had parked outside my house and 4 officers were looking up at my banner. I was hit by the realisation that I had started something with no thought as to the possible outcome. Later still a sea of photographers were taking photos of my house while with each bus and car that passed people stared and pointed.
My nerves were on edge as Donald Trump appeared. I stood on a low wall and unfurled my banner
Around 11am I saw a fleet of 5 black Range Rovers pass by. I decided to wander across the road and see what was happening. Security was everywhere, and my immediate thought was; who was paying for this?
I stood opposite the fleet of Range Rovers, much to the annoyance of the Bruce Willis wannabes guarding them.
Regularly updating my Facebook page, I drew nervous looks from the security staff. I went back home to pick up a jacket and tucked the smaller banner inside so as not to draw attention to myself. Returning to the same spot, I updated my facebook page, hoping that by getting information out asap, this might benefit others. Eventually a security person came over and asked me to move.
When I asked why, he replied: "no reason", but added that there was a space set aside for the press. I couldn't help smiling at his assumption that I was from the press as I proceeded to the designated area – 15ft from where the now Doctor Donald would soon emerge.
My nerves were on edge as Donald Trump appeared; I stood on a low wall and unfurled my banner which read "shame on you RGU".
Donald looked at me for a few moments.
I was approached by a member of his security team, who immediately ordered me to get off the wall, to which I replied in the negative. Again he asked and again he was given the same reply. Then in a much firmer voice, he said;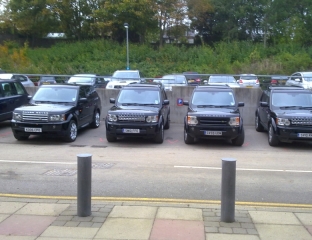 "Sir, I am telling you to get off the wall"
Who did he think he was talking to?
I told him I was not moving, and suggested if he dare put one finger on me…..
To my amusement he then turned and walked away to catch up with Doctor Donald and the car collection – Doctor Donald's five Range Rovers, the 3 Bentleys with personalised registrations, a number of Jags including Sir Ian's which took pride of place in the convoy.
Delighted with this unexpected response I shouted out, "nice one Donald!", and added that Scotland was not for sale.
I was then asked to pose for the various photographers and stood for 5 minutes while a sea of flash bulbs went off in front of me. I was asked to give interviews, but felt this part was better left to others. I had played my part. "