By Gail Riekie.
Henceforth, if anyone asks which institution awarded my PhD, I shall be very careful to say "The University of Aberdeen, that's Aberdeen University, not Robert Gordon University", or as it may soon, I fear, be renamed, The Donald Trump University.
Last Friday (8th October), first thing, I encountered my Ferryhill neighbour, a lecturer at RGU, as we were both walking our dogs in Duthie Park. Are you free for a coffee this morning, or are you busy, I asked? She said she was working at home, as a certain controversial degree ceremony was taking place at her workplace at 10 am.
I shall not rehearse all the arguments against Donald Trump and his golf resort here. Where in fact to begin?
The damage to a precious and scientifically special environment, the loss of an amenity, the contempt for local democracy and planning processes, Trump's past record of reneging on agreements and his bully boy tactics against local residents. I could go on. You get where I stand on this issue.
When I first moved to Aberdeen, twelve years ago, I was awestruck by the magnificent stretch of coastline north of Aberdeen. Scotland's mountains, lochs and islands are justly celebrated, but to stumble upon this beguiling other world of colossal dunes and pristine beaches was like discovering a well kept and very special secret. Why was this wonderland not more widely recognised? Did people not realise what a treasure lay on their doorstep?
At 50m intervals, big men in private security uniforms were surrounding the building. I was ordered off the premises
In July this year I took my new fox terrier puppy Bertie for a walk at Balmedie, a place where his predecessor, the Hamish the Westie, had many times joyfully romped. I tried to follow a favourite route, north along the beach and back inland through the shifting dune complex.
Only to encounter a line of notices, marching over the dunes, saying 'Warning. Construction Site. Keep Out!' The reality of the Trump situation finally hit home and I duly went home feeling sick at heart.
So anyway, back to last Friday morning. Work duties for the week completed, I decided to go any investigate what was up at RGU. I parked my car at Sainsbury's in Garthdee, walked with wee Bertie along the river Dee and tried to approach the Faculty of Health and Social Care from the rear. We often walk around this area after a supermarket shop, to my knowledge, no-one objects. Except for this time.
At 50m intervals, big men in private security uniforms were surrounding the building. I was ordered off the premises "because of what is happening here today". So I circuited round to the front, where, from a position amongst the bushes, above the front entrance to the FHSC building, I could see a small crowd of press and men in suits, with more arriving by the minute, mostly in 4WD vehicles. Very soon, another uniformed man approached me.
"What are you doing here?"
"Oh I often walk my dog round the campus, and this morning I was just a little curious to see what was happening with this Donald Trump degree ceremony".
"Where are you from?"
"I stay in Ferryhill, just a mile over that way." I wave my arm eastwards. He looks puzzled. I continue "and where are you from, by the way?" His African accent was even less Aberdonian than my English one and he stomped off to find the boss. The boss did sound local, and was all smiles. "Ah, is that a fox terrier, what a great wee chappie, I used to have a Scottie myself. Do come down here to the public viewing area, just behind the barricades, thank you."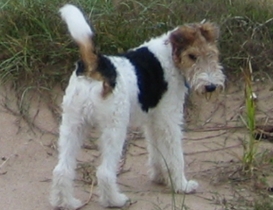 So I stood there alone in an area fenced off for 'public viewing', becoming increasingly bedraggled in the persistent drizzle. (Dr Trump's golfers will soon be familiar with this experience). Where were the other protesters?
A cameraman took lengthy footage of Bertie, who, rather disappointingly in the circumstances, sat there looking all cute and not displaying any of his feisty terrier tendencies. 'The Donald' was already inside, I learned, and I decided not to wait any longer.
Later that day, a friend in Edinburgh texted to ask "was that Bertie I saw on the BBC news?