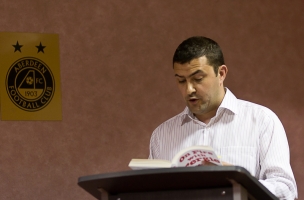 Last week Aberdeen Voice brought you our first ever prize competition, and the time has come to announce our two lucky winners; each of whom will receive a copy of Stuart Donald's excellent book 'On Fire With Fergie'.
Voice's Dave Innes reviews here. https://aberdeenvoice.com/2010/08/on-fire-with-fergie/
We asked: Against which European opposition did fallen idol Mark McGhee score a Pittodrie hat trick in 1984's European Cup-Winners' Cup?
Of all the entries offering the correct answer 'Ujpest Dosza', the two winners selected at random were:
Alan McGowan, and Brian Murison.
Aberdeen Voice would like to thank everyone who entered our first competition, and  offer congratulations to the winners. To the unsuccessful entrants; better luck next time! Here's hoping, whoever you support (other than Motherwell), that Saturday afternoon brings some consolation.