Books really are the gifts that keep on giving. Have you ever tried turning down the corner of your Kindle to mark where you left off reading? With an eye on the calendar and mindful that Voice readers should be sending letters up the lum shortly, David Innes performs a labour of love in reviewing a seasonal offering from a fitba hero for whom every month was Movember.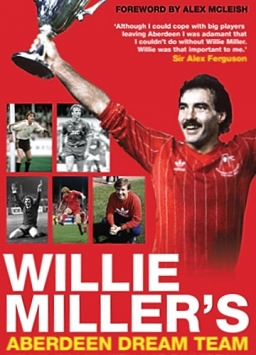 Willie Miller is indisputably the greatest-ever Don. The image of him, bristling of moustache, jet black hair matted with Scandinavian May rain, nonchalantly holding aloft in trade mark single-handed triumph the European Cup-Winners' Cup, is etched indelibly on every Dons fan's retina.
It's will be no surprise to learn that this iconic image dominates the front cover of Dream Team, in which Miller evaluates Dons with whom he played, stars who he managed whilst also trawling the Pittodrie archives to give brief pen pictures of legends of yesteryear as he chooses his best side and, unusually, backroom staff.
When football fans, always much more knowledgeable, of course, than those qualified and paid to make selection decisions, cannot even agree who should be in their team this week, selecting an all-time XI from their club's entire history is guaranteed to cause arguments.
No doubt  Miller's volume will engender more disputes than it will settle. Such debate is a huge part of football's attraction to those addicted to it and happy in the knowledge that there is no known cure for this affliction.
Without giving too much away in case a Dream Team-shaped parcel finds its way under your festive tree next month, Miller rules himself out and selects a side in 4-3-3 formation, with seven substitutes. Unsurprisingly, most are his own contemporaries, but given that he played at the top level for 16 years, that gives him a wide constituency from which to choose.
All very interesting, but it is his – or perhaps co-author Robertson's – research into Wasps and Reds icons of the 70 years of club history before Willie's own career began that fascinates most. Although previous volumes have covered this before, an appreciation of Dons giants written from a player's perspective gives occasional new insights to familiar and less-familiar names.
The fact that the terms "we" and "us" are used, even when discussing the author's distant club forebears, is quite endearing.
What is disappointing is the editing. Occasional errors will slip through, but facts are easily checked. If the text is to be believed, the peerless Eric Black scored on his debut against Dundee United in another dimension, since there is no 31 September on any earthly calendar known to me.
The writing could frequently be sharpened, tightened up and sprinkled with some editorial pixie dust, but football books are rarely contenders for literary awards.
If you love the Dons, you'll find Dream Team is of considerable interest and worth reading. If you don't, I want to know why.
Willie Miller's Aberdeen Dream Team
Willie Miller with Rob Robertson
Black and White Publishing. 236 pp. £10.99