For some semi-pro musicians, it's not unusual for the phone to buzz on Thursday night and the conversation to go along the lines of,
"Davie min…."
"Aye?"
"Got a gig the morn?"
"No, Saturday at The Cragshannoch, Sunday at The Argo".
"Can you fill in with us at The Bilermakers? Cash in hand, start at 9 o'clock, after the bingo".
"Aye, go on then, send me your set list. Keys will help. Is Shake Rattle and Roll still in bloody Bb to accommodate your sax player?"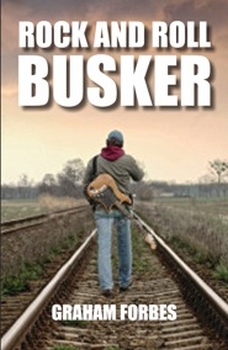 Dave Innes reflects, from fraught experience, on such rattlings and rollings as he flicks through the pages of Graham Forbes' Rock And Roll Busker.
It was ever thus. Busking, you see, is not solely the preserve of the Oasis-obsessed fellow outside John Lewis's, or of the tasteful Eastern European accordionist flourishing the bellows in St Nicholas Street.
Busking, to those in the know, is playing along brazen frontedly, with songs you half-know without anything as decadent as a rehearsal, making an intuitive contribution, often taking a leap of faith with chords or fingering, and always having the fallback default option of "muffled E" if you're a bass player.
This is a seat of the pants world where bum notes are 'jazz licks' and mis-timed cues are 'a bit of funk syncopation'. Audiences never notice. Sssssshhh….
That's where the yarns in Graham Forbes's third book will chime with jobbing musos, who share the author's obsession with playing to an audience, not for the cash but for the buzz that only live performance can impart.
Glaswegian by birth, Forbes grew up in the 1960s and 1970s, when, if players were prepared to travel, they could be playing live every night. As well as traversing Scotland with a series of bands of rock n roll misfits, semi-alcoholic soulmen and cabaret tearaways, Forbes played in a credible line-up of the Incredible String Band and on sessions by household names.
Beyond this, however, his desire was always just to turn up, plug in and rock out.
The associated tales are hilarious, fascinating, and will ring true with anyone who experienced those crazy days and their financially-meagre but often otherwise hedonistically-satisfying rewards, destroyed forever by pub DJs and bloody karaoke.
Forbes is forthright, opinionated and passionate. Those he loves and respects are described affectionately, but he reserves harsh words and a fine level of splenetic disdain for money-obsessed managers, lazy, unreliable band members, young acts concerned only with record deals and for music stands onstage. He likes 1950s valve amplifiers, tanned, long-legged American girls, mountaineering, Fenders and skiing.
As he brings Rock And Roll Busker up to date, he divides his time between Florida and Glasgow, always on the lookout for a gig, whether for the well-heeled in the humid clubs of Saratosa, or the formica-chic of Paisley's Patter Bar offering punters a few hours respite from the grim deprivation of life in the put-upon West of Scotland. Accounts of his experiences in these starkly-diverse situations show that his love affair with entertaining has diminished none.
My favourite rock n roll books are Deke Leonard's twin behemoths Maybe I Should've Stayed In Bed? and Winos, Rhinos and Lunatics. Rock And Roll Busker is every bit as entertaining and nostalgic and has earned the right to be slotted in next to those seminal tomes on my bookshelves.
ROCK AND ROLL BUSKER
Graham Forbes
(MCNIDDER & GRACE) 
282 pp
Comments enabled – see comments box below. Note, all comments will be moderated.