Roller Derby – Europes fastest growing sport – and Aberdeen is well up to speed. Voice's Stephen Davy-Osborne and Fred Wilkinson were in attendance to check out the latest bout and spread the word about this new and exciting scene.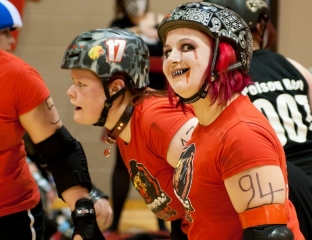 Last Saturday saw upward of two hundred brightly clad skaters and supporters descend on the Beach Leisure Centre for a roller derby of epic proportions between Aberdeen's home grown team the Granite City Roller Girls and the Fear Maidens of Perth. The event was billed as 'Taco Hell' – sombreros and painted on moustaches being the order of the day as players and spectators endorsed the Mexican theme.
After an exciting display of speed, skill, balance, agility, and more than a few meaty challenges, the final score was a resounding success for the home team at 129 v 57.
Speaking after the derby, chairwoman of GCRG, Kirsten Reid (aka Krusty Thud) enthused by the success experienced by her up and coming team.
"Saturday was a huge success! 150+ spectators from all over Scotland and some from further field, made it a brilliant day."
Equally enthused, treasurer Katrina Bird (Blood Red Bird) added:
"It was a good score from us but the Fear Maidens didn't make it easy and we will have a fight on our hands with our return bout in Perth later on in the year"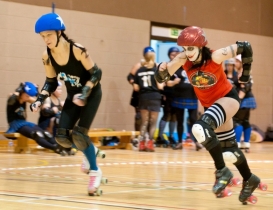 The GCRG were founded in 2007 as the Aberdeen Aces, but a lack of training facilities meant that training could only take place in car parks, and other large, flat, open spaces.
It wasn't until late 2008 that they were offered training ground with Aberdeen Lads Club in Tillydrone, that they re-launched themselves with a new name and set about recruiting new members, which initially proved somewhat of a struggle.
However, with the release of the film 'Whip It!' starring Drew Barrymore and Ellen Page, and an inspirational advertisement from Nike featuring roller derby, there came an influx of new members – with plans now to create a second team for the Granite city.
All this extra publicity can only do good for the relatively unknown sport, which has become the fastest growing contact sport in America and Europe.
"Finally, roller derby is being taken seriously and we are deeply proud to be a part of it" agree Kirsten and Katrina.
With their recent successes, the GCRG are keen to take their team to the next level, even considering the possibility of putting team members forward for the Scotland team competing in the first roller derby world cup, being held in Canada in December of this year.
The team are a non-profit organisation and fund everything themselves. They regularly hold fundraisers, with their sponsorship team always on the look-out for new sponsors, no matter how big or small, to help the team progress to their full potential.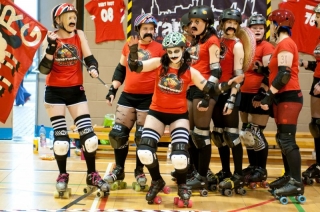 However, it is not all about raising funds for the club –  a home bake sale at the derby this weekend past also saw the team raise over £100 for Northsound's Cash for Kids charity.
Early March sees the girls heading down to Newcastle to play the Newcastle Roller Girls in their furthest away bout yet, followed by a home game against Edinburgh's Cannon Belles at the Beach Leisure Centre on April 2nd. More details of these events can be found on the GCRG website: