Miseryweeds is the first official retrospective of self-taught graphic designer artist Jimsin Vogel. A local artist who has been submerged in Aberdeen's counter-cultural scenes, his exhibition is a multi-media display of the city's dark underbelly. Keava McMillan tells enough, but not all, to make this sound intriguing.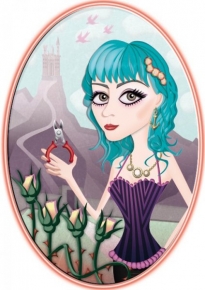 If you didn't know Aberdeen had hidden depths, Jimsin Vogel's debut exhibition will reveal what you've been missing.
After working for years with alternative cabarets, fetish clubs, burlesque shows, gothic designers and roller derby events, as well as a host of strange and unusual club nights, Jimsin has been inspired by these curious sideshows to create a unique and distinctive style.
His distant, enigmatic signature characters first caught the popular imagination in his long-running comic strip series Darling I'm Dying, which will be displayed in full for the first time at this exhibition.
Taking influence from sources as eclectic as Weimar expressionist cinema and totalitarian propaganda posters, Jimsin creates tenebrous worlds of smoke and mirrors occupied by vague and decadent creatures. In addition to his graphic art work, Jimsin will be exhibiting part of his growing collection of commissioned portraits of various waifs and strays.
Jimsin Vogel is a self-taught artist. As such, he is breaking into the art world in his own unique way. The opening of his exhibition is designed as a celebration of his work in the form of a party rather than a conventional wine reception and viewing. Due to his background in club promotion, he sees the space in which his work is hung as a site for entertainment and interaction rather than introverted artistic contemplation. This highlights one of the main questions his exhibition raises, "why does art have to be viewed in a gallery setting to be taken seriously?"
Vogel's graphic art is already a part of our everyday lives. It has adorned street corners and pub walls for some time, standing out from the average corporate advertising posters in its eccentric, propagandist style, relevant to the community events he is involved with. Since 2004, Jimsin has been working in marginalised genres – advertising posters, online comics and stylised portraits.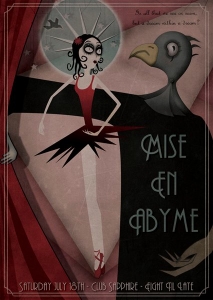 By boldly displaying these media in the context of an art exhibition, the artist challenges our ideas of what should be considered serious art. Nobody would deny the fact that his works are visually striking and compositionally innovative. By viewing them in a new context, the subtlety and wit of his artistic parodies of accepted high art become apparent. Through this retrospective, Jimsin insists that graphic work is to be considered as a genuine art form and that to work as a true artist it is not necessary to train in the conventional art-school manner. His exhibition is entertaining. It is also thought-provoking.
After years of creating intricate and unique pieces to support alternative and community projects, this exhibition signifies the start of Vogel's career as a professional graphic artist.
To celebrate the launch of this newest addition to the Aberdeen art scene, everyone is invited to a free launch party at Cellar 35 on Thursday 3rd February from 7pm to midnight.
In addition to a preview of the main exhibition which will be open until the end of February, there will be atmospheric music, live art, screened projections, prints for sale and a supply of complimentary drinks.