An Optimistic Sound – The Songs of Michael Marra, Dundee Repertory Theatre, 28 September 2013. David Innes reviews.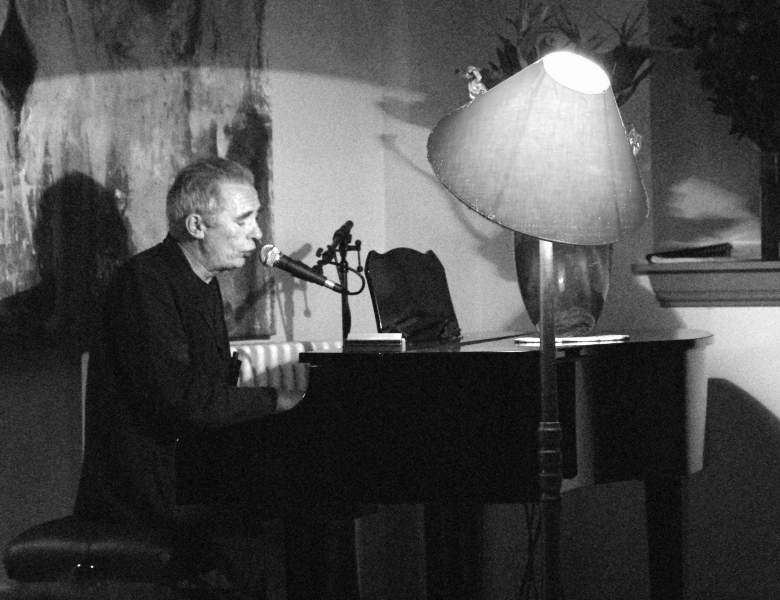 It's difficult to believe that almost a year has passed since Michael Marra was taken from us, and the world was deprived of a supremely talented writer, artist and performer.
The affection and respect which poured out from fellow artists, fans and friends in October 2012 validated his status and the esteem in which he was held.
Such was this esteem that Celtic Connections, only three months after his death, featured an evening of celebration of his music and influence entitled All Will Be Well.
Quite what he would have made of this we can only guess; but as a fiercely proud Dundonian writer and performer, one can imagine that a further commemoration, An Optimistic Sound, played to a sold-out Dundee Repertory Theatre, would be the finest accolade that he could imagine.
Whilst the Glasgow Royal Concert Hall event was emotional and celebratory, by contrast the Dundee event had a more relaxed feel. It was as if Michael's 'bairns' The Hazey Janes, with son Matthew on bass and daughter Alice compering and performing, and wife Peggy, had invited friends round for the evening to sing a few songs and share an anecdote or two.
That spirit of inclusion extended to the audience, loudly appreciative of every artistic effort extended for our entertainment.
Whether it was Rod Paterson telling of Michael's generosity in completing a muse-deserted Paterson song overnight, Peter McGlone blowing heart-rending saxophone, or Saint Andrew declaiming Woodwork Woodwork  and revealing that its refrain was based on the late Gus Foy's school timetable, standards of performance never fell below outstanding.
Could Muscle Shoals have assembled a more soulful backing chorus for Eddi Reader's white-hot Here Come The Weak than Alice Marra, Karine Polwart and sisters Fiona, Gillie and Eilidh Mackenzie?
Dougie McLean has thankfully preserved a song, never recorded, which Michael would sing in his early performing days at Blairgowrie Folk Club, and took obvious delight in performing it.
These are merely a few highlights among many. The whole was indeed greater than the sum of its parts.
Michael had always shied away from stardom. As our national Makar Liz Lochhead reminded us, he once said, 'I don't want my name in lights; I want my name in brackets'. Ever the songwriter. His generosity was well-known and he would have been proud, without doubt, that all profits from the evening are to go to Optimistic Sound, a Michael Marra Memorial Music Trust for the young people of Dundee.
Comments enabled – see comments box below. Note, all comments will be moderated.