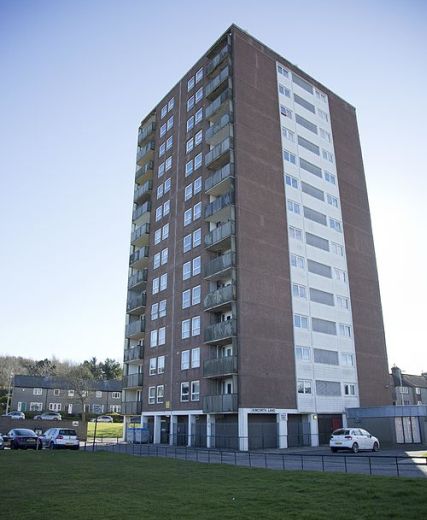 A guitar once owned by Hendrix has been put up for auction in Aberdeen, following a council hunt for heirs. Duncan Harley reports.
When council housing officer Dennis Potter was called to the home of a council tenant on Aberdeen's Kincorth Housing Estate he thought that it would be simply a routine house clearance.
The elderly male who had lived there for over 30 years had passed away and, with no relatives on hand to see to his affairs, it fell to the council to clear the flat and prepare it for a new tenant.
"I was pleasantly surprised" said Dennis "to find that the place was clean and in good order."
"It's not unusual for us to enter a property where someone has died and find that they had perhaps not been coping during what may have been a difficult end of life period. But, in this case that was definitely not the case and our tenant had taken really good care of the property."
Initially, the council had assumed that relatives would come forward to claim possessions and see to the estate, but after a three-year hunt for heirs no-one came forward.
"We knew that Mr Brown had no surviving friends in the locality" said Dennis "but we thought that maybe he had relatives somewhere who might have kept in touch."
"But as his birthdays came and went, there were no cards, and even at Christmas the deceased only received a few begging letters from the likes of the Salvation Army and a charity specialising in promoting paintings made by limbless artists from North Korea."
Eventually council bosses asked Dennis to dispose of the few possessions left by the tenant and an Aberdeen auction firm was asked to provide a valuation.
"We needed to cover the costs involved" says Dennis.
"There was a very small amount of outstanding rent, but on top of that there was the matter of the burial; and we felt we had a duty to recover what we could to protect the public purse."
The valuation, however, far exceeded expectations, for in amongst the few possessions left by Mr Brown there was a guitar.
"I had assumed that it might be worth just a few pounds" said Dennis.
"I mean, it was badly scratched, the frets looked worn and the strings had seen better days. But you never know at auction since maybe someone is looking to get a real bargain."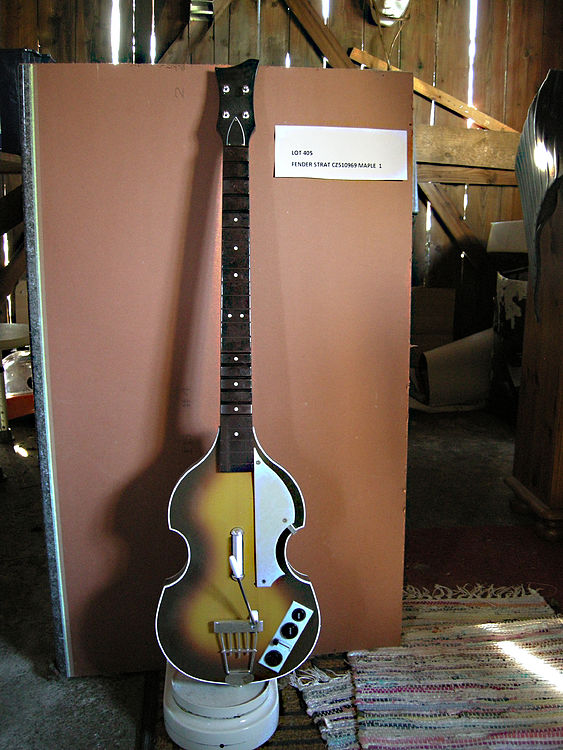 The auctioneers were initially unimpressed with the item and consigned it to the weekly general sale in expectation that it might be worth something to someone willing to restore the neglected instrument. However, and quite by chance, musicologist Jim Hawsworthy came to preview the lots for sale.
"I couldn't believe my eyes" he said "at first I thought I was dreaming, but there right in front of me was a genuine Strattofaster!"
"I mean these instruments are the Stradivariuses of the guitar world. There are probably only around fourteen known examples worldwide, and this one is completely genuine."
Seemingly Jimi Hendrix owned two of these instruments, but after his death aged 27 in September 1970, it emerged that one was unaccounted for.
In a strange twist, it transpired that Mr Brown had been drinking red wine with Marmalade stars Gary Farr and Jimmy Cregan, together with Eric Clapton at the Scotch of St James bar in Mayfair on the night of Hendrix's death.
"When Jimi came in" said Clapton "he had no dosh and neither had the rest of us."
"So we asked Bennie the roadie to bung us a few quid – just to keep the party going you understand. By that time the bar bill was astronomical and to be honest we were all a bit keen to get more wasted, so to calm Bennie Brown down, I suggested that we bung him a guitar as collateral. That's how it all happened really. He was pleased as punch and went off strumming Jimi's guitar.
"I know that 'cause I was there. Or at least I think I was. That is until I awoke to find that Jimi had, well you know – gone off somewhere and died basically. Never forget that night really. What year is it today anyway?"
Be that as it may, the auction of the Hendrix Strattofaster takes place at Aberdeen Auction House on East Silver Street on April 1st with all proceeds going directly to the council.
The sales catalogue reads as follows:
LOT 405
"FENDER STRATTOFASTER, JIMI HENDRIX SIGNATURE MODEL, 1967
Serial number CZ510969, maple tarnished finish, maple neck with skunk-stripe routing, red paper dot on back of headstock beside "Sandy Klaus Fender Custom Shop" transfer, twenty-two fret fingerboard with dot inlays, three pre-Vintage Noiseless pickups, three rotary controls, selector switch, tremolo/bridge tail block and white pick guard; and a black Harry Fender hard-shell bright-contour case with black plush lining and cream cloth sticker inscribed in hazy purple felt pen "Good luck Jimi from your good old pals Otis, Eric and Shanker" and tie on paper label inscribed on both sides in black felt pen "FENDER STRAT CZ510969 MAPLE 1", one red and one green paper dot on two case latches."
A reserve price of £2,500 has been placed on the item and international interest is expected.

Words and images © Duncan Harley
Additional reporting by April McGinty
Comments enabled – see comments box below. Note, all comments will be moderated.