Regulars at a popular Aberdeen bar have answered a call to raise thousands of pounds for a local children's charity. With thanks to Ian McLaren, PR account manager, Innes Associates.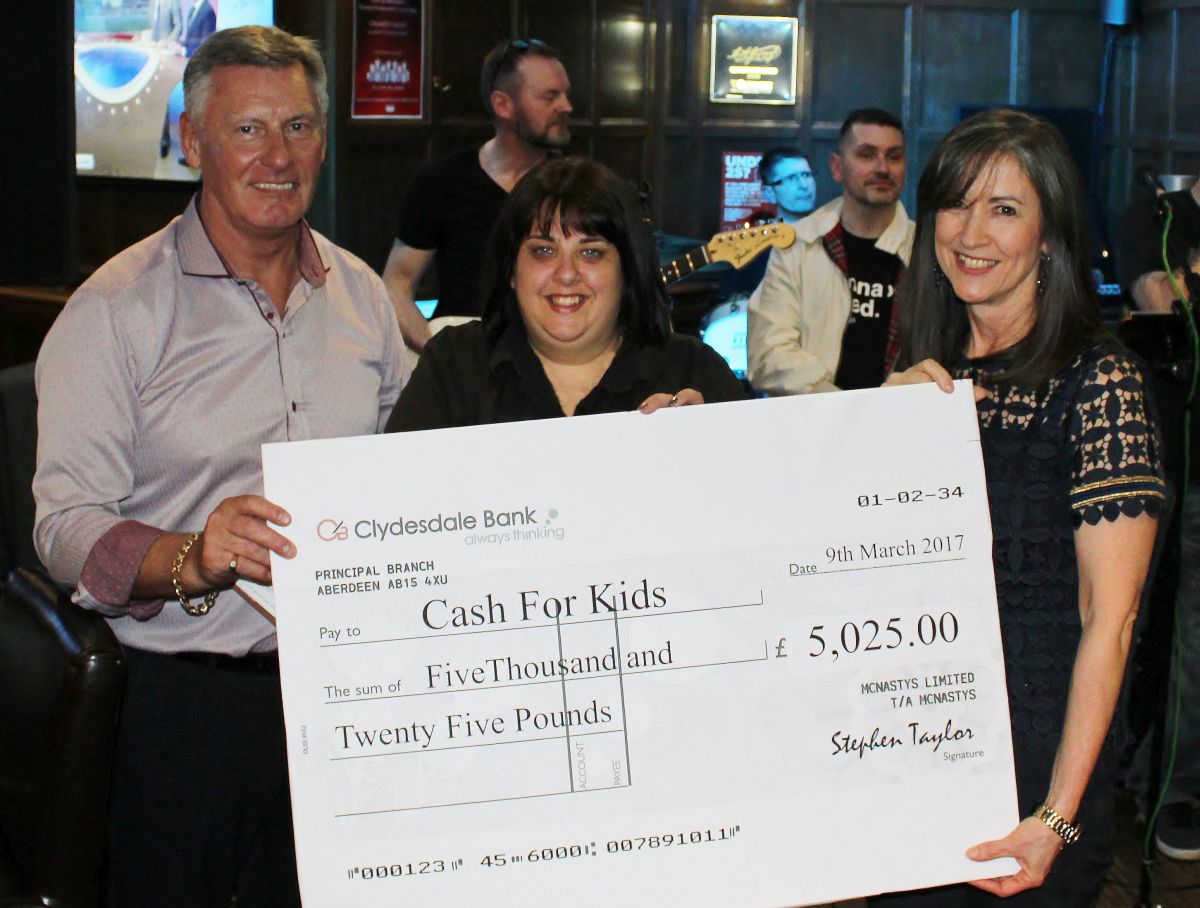 During 2016, customers of McNasty's on Summer Street dug deep to raise over £5,000 for north-east charity Cash for Kids.
The bar's owners, Stephen and Linda Taylor, were keen to once again support the charity which works to improve the lives of sick, disabled and disadvantaged children living in Aberdeen and Aberdeenshire.
This contribution follows £4,000 handed over to the charity last year as a result of fundraising during 2015.
Central to McNasty's annual fundraising initiative is a fortnightly quiz that attracts around 15 teams. The quizzes are set by pub regulars Barry Cooke and Iain Sluyter, something the duo have done in their spare time for the past seven years.
In addition to the fortnightly quiz, Barry and his friend Ronnie Falconer, assisted by the team at McNasty's, have organised a number of other fundraising events at the bar. This has included race nights, raffles and band nights – at which local bands take to the stage free of charge. Amongst the bands that have performed are The Capollos and Winston Smith.
Co-owner of McNasty's, Stephen Taylor, said:
"All of our customers and suppliers have once again got behind our fundraising and shown real generosity. To have increased the amount we handed over to Cash for Kids compared to the previous year is fantastic. It is great to know that the money will be used locally to make a real difference to the lives of children across the north-east."
Quiz organiser Barry Cooke, who works as an operations support coordinator for Apache North Sea, said:
"The popularity of the quiz grows year-on-year, meaning that the amount we raise from it for charity also increases. Although each quiz takes time to set, the reward is in knowing how much the charity, and those that it supports, benefits."
Cash for Kids will use all of the money donated by McNasty's to help fulfil applications to its quarterly grant funding programme. Grants are made to individuals, families and community groups in order to help improve the quality of children's lives. Applications for the next round of grant funding must be submitted by Friday, 14 April and endorsed by a third party such as a social worker or health visitor.
Cash for Kids charity manager Michelle Ferguson said:
"We're very grateful to the customers and staff at McNasty's who helped to raise this brilliant amount during 2016. Businesses committing to this type of fundraising, with the support of their customers, is very important for charities and can help to make a real difference to the lives of the people we support. In Cash for Kids' case it is the thousands of sick, disabled or disadvantaged children that live in Aberdeen and Aberdeenshire.
"The pub quiz at McNasty's might not be the easiest, but Barry, Ian and the team at the pub certainly make sure it is a fun and sociable night."
Cash for Kids is Northsound Radio's listeners' charity. It makes grants to individuals, families, children's groups, organisations and projects throughout the Northsound transmission area. All money is raised locally and spent locally to benefit local disabled and disadvantaged children and young people under 18. More information on Cash for Kids can be found at www.northsound1.com/cashforkids, or telephone 01224 337010.
Comments enabled – see comments box below. Note, all comments will be moderated.