With thanks to Jessica Murphy, Senior Account Executive, Citrus:Mix.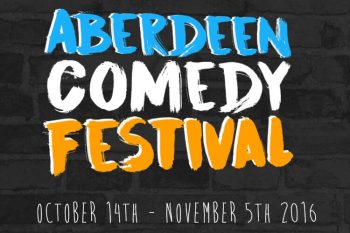 A new comedy festival which boasts a host of stand-up talent is getting underway in the Granite City.
Comedy fans can choose from more than 65 shows from a fantastic line-up of comics during the 23 day Aberdeen Comedy Festival which will run until Saturday, November 5.
The laugh filled extravaganza, which is being sponsored by local bar/pub McGinty's Meal An' Ale, features more than 250 comedians performing at over 20 venues throughout the city centre.
These include Hardeep Sing Kholi, Phil Nicol, Junior Simpson, Carl Hutchison, Kate Smurthwaite and Carly Baker among many others.
The festival, which is sponsored by McGinty's Meal An' Ale, kicked off in style with a gala launch event at the historic Tivoli Theatre on Friday with Australian funnyman Tom Stade setting the tone for the event, alongside Billy Kirkwood, Liam Withnail and Gary Little.
Adrian Watson, chief executive of Aberdeen Inspired, said:
"We are delighted to be launching the Aberdeen Comedy Festival, which we are sure we will be very well received by the public.
"Both Aberdeen Inspired and Breakneck Comedy have worked very hard to get to this point and it is fantastic to now be getting underway with events.
"At what continues to be a difficult time economically for the city, we are pleased to bringing some laughs to Aberdeen with the aim of also increasing footfall within the centre.
"It has always been an ambition of ours to organise an event on this scale. We also know we need the backing of the north-east public so hope people take this opportunity to enjoy the great variety of comedy that will be on offer."
Operations Director, Alan Aitken of McGinty's Meal An' Ale, said:
"As a local business, we are delighted to support the first Aberdeen Comedy Festival. It is great to be involved in a new initiative for the North-east and hopefully this will encourage everyone to stay local in the city centre to enjoy what our great city has to offer.
"We look forward to welcoming all the comedy lovers to McGinty's on Tuesday October 18 when Andrea Hubbert, Marc Jennings, Mark Nelson and Elaine Millar will be performing a free event from 8.30pm. We will also be serving the official festival ale 'McGinty's Barrel of Laughs' throughout the festival."
The festival programme has been put together by Naz Hussain of Breakneck Comedy. To buy tickets and for more information on the festival visit http://www.aberdeencomedyfestival.com/
Tickets can also be bought in person at the Lemon Tree or HMT Box Offices.
Aberdeen Inspired is the banner under which the Aberdeen BID (Business Improvement District) operates. It is a business-led initiative within the city centre in which levy payers within the BID zone contribute.
Proceeds are used to fund projects designed to improve the business district. Further information on the work of Aberdeen Inspired is available at www.aberdeeninspired.com.