By David Innes.
Graham Robertson and Kenny Taylor's Facebook page had me intrigued.
Blues, in all its guises, is a healthy obsession, so a chat was in order.
Graham provides the words.
So, Graham, what inspired you to begin promoting gigs in Aberdeen?
'Kenny and I are both huge fans of live music and regularly travel to gigs all over the place.
'We had thought about promoting, but when our friend Linda from Newcastle gave us the chance to bring Ryan McGarvey to Aberdeen, we decided to take the chance. Having seen him a few times before, we knew how talented he was, and it would be a challenge and a great opportunity for our first show. Ryan, Kenny and I were very pleased with the turnout out of 121, given that he's virtually unknown in Aberdeen. There's definitely a demand for blues rock out there with Joe Bonamassa pulling a crowd of over 3000 when he played the AECC in September.
'We started our Facebook page since it's much easier to get word out via social media. Over 200 people are following the page in the short time it's been up and running, and we're considering the merits of having our own website.
'As fans of live music it is also quite important for us to keep the tickets at affordable prices.'
So why Blues Rock? Are you attempting to get into a niche here, or are you open to acoustic acts, Delta interpreters etc? What if Eric Bibb was looking for a gig in the NE?
'We'd be open to acoustic gigs, but are focusing initially on electric blues rock for the first two or three years until we get ourselves established. We'd then consider taking Eric Bibb to Aberdeen if it was financially viable.'
What were your personal highlights of 2014?
'2014 was very good year for us. Obviously starting up Blues Rock Aberdeen and putting on our first two gigs – Ryan McGarvey and The Nimmo Brothers were the main highlights.
'In March I travelled to New York to see The Allman Brothers Band play two nights during their run at The Beacon Theatre. A week after I'd booked the tickets they announced that 2014 was going to be their final year, so that made the concerts even more special.
'In May we both attended The Rory Gallagher Tribute Festival in Ballyshannon, where Rory was born. It was a brilliant, with over twenty bands playing over the weekend. Fans attended from all over the world and I even had a pint with a guy who had travelled from Australia especially for the festival.
'The overwhelming highlight of 2014 for me, though, was the Harvest Time Blues Festival in Monaghan, Ireland at the beginning of September. It came as a real surprise, as I didn't think anything could top seeing The Allman Brothers Band.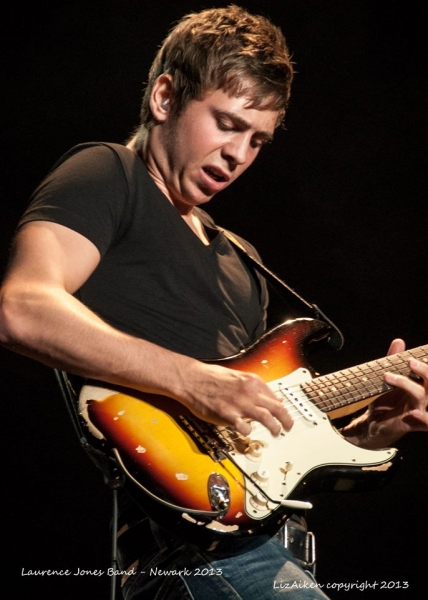 'The whole festival was particularly well-run and had a great variety of bands. Almost every bar had live bands playing including Crow Black Chicken and The Hardchargers from Ireland. Doug MacLeod, Lil' Jimmy Reed, Bnois King and Smokin' Joe Kubek all played, and 81 year old Leo Bud Welch graced the acoustic stage.
'The main stage started at 2230 and had a wealth of talent with Monaghan's own Grainne Duffy, Mud Morganfield, Royal Southern Brotherhood, and my favourite band over the whole weekend The Steepwater Band from Chicago. I would highly recommend The Harvest Time Blues Festival to anyone.
'In November Kenny went to The Blues Fest at The Royal Albert Hall taking in many great acts including The Hoax, Beth Hart and Robert Cray, but his highlight of 2014 was seeing Gary Clark Jr blowing away the crowd in Manchester.'
And your three favourite blues albums of 2014?
'2014 was a fantastic year for blues albums. Our top three in no particular order were:
Rival Sons – Great Western Valkyrie
Gary Clark Jr – Live
Beth Hart  and Joe Bonamassa – Live in Amsterdam'

And who would you predict for glory in 2015?
'Blues Pills from Sweden who impressed us greatly when we saw them support Rival Sons in Glasgow in December.
'Ryan McGarvey, a very special talent. I'm sure everyone who saw his gig in June will agree
'Ruf Records' Laurence Jones, We first saw him support Royal Southern Brotherhood in Kendal in 2011. It's been really good to see him mature as a musician when we've seen him at one or two blues festivals in the last couple of years and when he supported Kenny Wayne Shepherd in Edinburgh last year, he went off to a standing ovation. He just gets better and better, now with a fantastic rhythm section behind him in Roger Innis on bass and Miri Miettinen on drums. It's great to see him awarded another high profile support slot, joining King King on their current UK tour, including a Lemon Tree date on Sunday 22 March.'
So far, what's arranged in Aberdeen for 2015?
'We're bringing The Stevie Nimmo Trio up on Sunday 3 May, Virgil and the Accelerators on Friday 15 May, Laurence Jones on Monday 22 June and we're hoping Philip Sayce will reschedule his cancelled show from last November. For the Stevie Nimmo Trio we're trying something different. Since it falls on May Day weekend we've made it an afternoon gig with doors opening at 1500.
'After their successful gig in September we'll be bringing the Nimmo Brothers back later in the year.'
If money, venue and availability were no object, who would you bring to Aberdeen for blues lovers to see?
'We're huge fans of Gary Clark Jr and Warren Haynes and would love to take them to The Granite City. Warren Haynes is the hardest working man in music and we'd love to see him play Aberdeen whether with his band Gov't Mule or solo.'
There are perennial complaints that Aberdeen is missed out when artists of all genres tour the UK. Blues Rock Aberdeen and Almost Blue promotions are putting admirable effort and energy into trying to put that right.
The least they deserve is your support for their creditable hard work.
www.facebook.com/bluesrockaberdeen
Blues Rock Aberdeen gigs 2015
03 May             The Tunnels       The Stevie Nimmo Trio (afternoon show 1500)
15 May              The Tunnels       Virgil and the Accelerators
22 June            The Tunnels       Laurence Jones