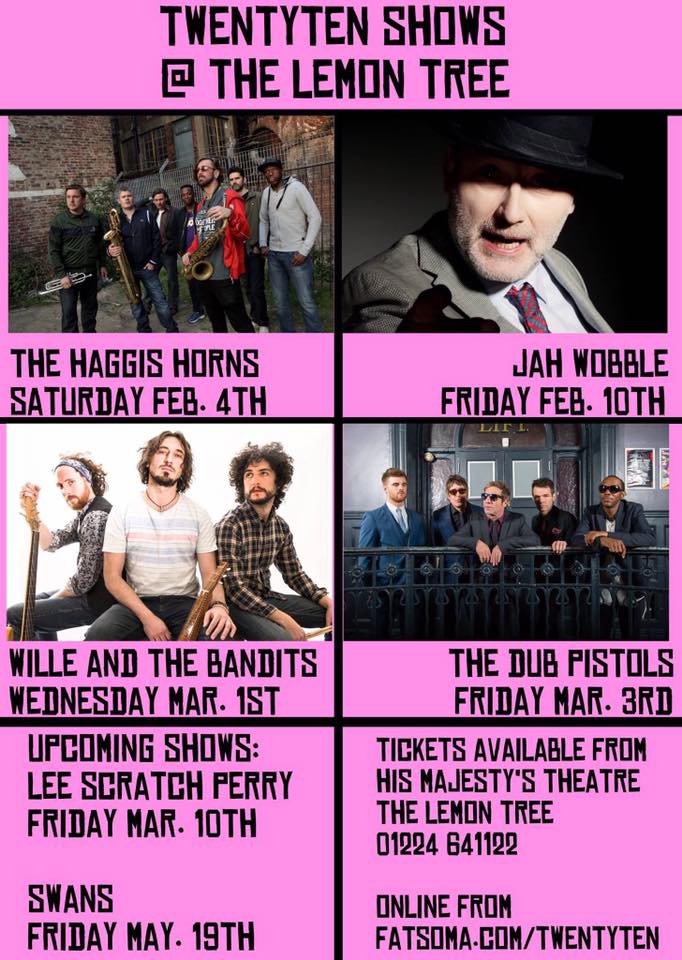 By Craig Chisholm.
Inverness based promoter Stephen Robertson is slowly but surely making a name for himself in the world of music promotion.
Over the past year he has put on big names such as Motown star Martha Reeves, The Bad Shepherds, who feature comedian Adrian Edmonston, dub and reggae legend Lee 'Scratch' Perry, Manchester indie stalwarts The Fall, Radio 6 DJ Craig Charles with his popular Funk and Soul Club and former PIL bassist Jah Wobble, with his band Invaders of The Heart, among others.
Though based up North he has put a formidable line up of talented acts on in Aberdeen venues such as Café Drummond, The Tunnels and The Lemon Tree.
He's also been racking up the miles to promote gigs in Dundee, Edinburgh and Glasgow.
Stephen started back in the promotion business back 2006 when he started booking acts for several venues in Inverness. In 2014 he started TwentyTen and took things a step further, booking bands in Aberdeen and not just in the Highlands.
As well as established names he has also put on shows by up and coming bands such as Teleman, Fatherson, Bloodlines and Vokovi – all of whom are destined for bigger things.
Upcoming TwentyTen gigs in Aberdeen include an appearance by critically acclaimed influential New York band Swans and a rare intimate acoustic gig by The Rifles.
Coming up in Aberdeen –
May 18th – The Rifles (Unplugged) – The Tunnels
May 19th – Swans – The Lemon Tree
May 21st – Matt Anderson – The Tunnels
May 22nd – Natives – The Tunnels
June 3rd – Popes of Chillitown – Café Drummond
Tickets are available to these gigs – as well as others in Inverness, Glasgow Dundee and Edinburgh from – https://www.fatsoma.com/twentyten
Facebook – https://www.facebook.com/TwentyTenEvents/
Twitter – https://twitter.com/2010Management?lang=en
Comments enabled – see comments box below. Note, all comments will be moderated.