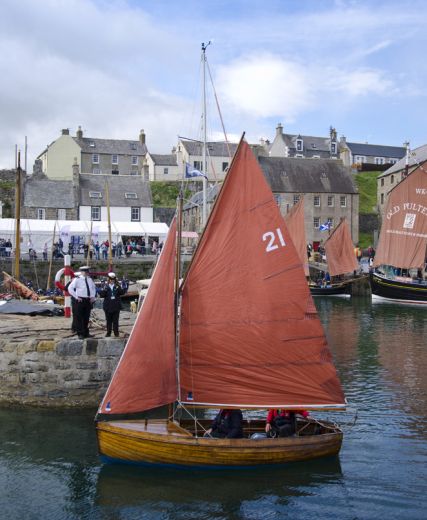 With thanks to Esther Green, Tricker PR.
Aberdeen Asset Management (Aberdeen) has stepped back on board as sponsors of the Scottish Traditional Boat Festival which takes place in Portsoy annually and is worth in excess of £1 million to the local economy.
Last year's event festival attracted more than 18,000 people, with a significant growth in the number of visitors attending from outwith the region and just under 12% of visitors attending from overseas.
Aberdeen Asset Management's four year sponsorship deal of the festival came to an end in 2014, but with the flagship event finding it difficult to find a successor, Aberdeen have thrown organisers a lifeline and agreed to back this year's event, and to provide further funding in 2016.
Festival chairman Roger Goodyear has welcomed Aberdeen Asset Management's intervention, saying it protects the continuation of the popular event in the short term, while buying more time for organisers to secure an alternative main sponsor for future years.
Roger says:
"We are delighted that Aberdeen Asset Management has generously agreed to back us with this extra support. It comes at a time when we are involved in a number of additional projects that are taking up a considerable amount of time and attention but will bring significant community benefit, including the creation of a boatshed, the building of a traditional salmon coble and, in association with the North East Preservation Trust, the restoration of a listed building to create a bunkhouse.
"Aberdeen has been a generous supporter of the festival since 2011 and that has meant that it is an extremely hard act to follow, but we are pleased to have this safety net in place as we seek other sponsors for future festivals."
Martin Gilbert, chief executive of Aberdeen Asset Management and a keen sailor, says of the sponsorship award:
"The Scottish Traditional Boat Festival is a key highlight of the tourism calendar and, as well as being the largest gathering of traditional boats in Scotland it has an excellent range of on shore activities for all ages.
"When we became aware that the festival was finding it a challenge to secure a main sponsor, we wanted to show support that will help safeguard this vibrant community-run event which attracts a high level of tourists to the area every summer, as it continues to seek a long term sponsorship supporter."
Scotland's former First Minister Alex Salmond, a frequent visitor to the festival in Portsoy on the Banffshire Coast also welcomed the sponsorship announcement.
 "The Scottish Traditional Boat Festival is one of the most popular events in Scotland's tourism calendar and I am absolutely delighted that Aberdeen Asset Management are back on-board for another two years.
"Portsoy welcomes thousands of visitors during the festival each year and during the Year of Food and Drink 2015 there are even more opportunities to promote and celebrate our award-wining local producers."
The 22nd annual Scottish Traditional Boat Festival takes place on 4 and 5 July 2015 and promotes maritime links and heritage, as well as maritime crafts, food, music, traditions and local sports.
Comments enabled – see comments box below. Note, all comments will be moderated.
[Aberdeen Voice accepts and welcomes contributions from all sides/angles pertaining to any issue. Views and opinions expressed in any article are entirely those of the writer/contributor, and inclusion in our publication does not constitute support or endorsement of these by Aberdeen Voice as an organisation or any of its team members.]