With thanks to Jennifer Kelly, Senior Account Executive, Tricker PR.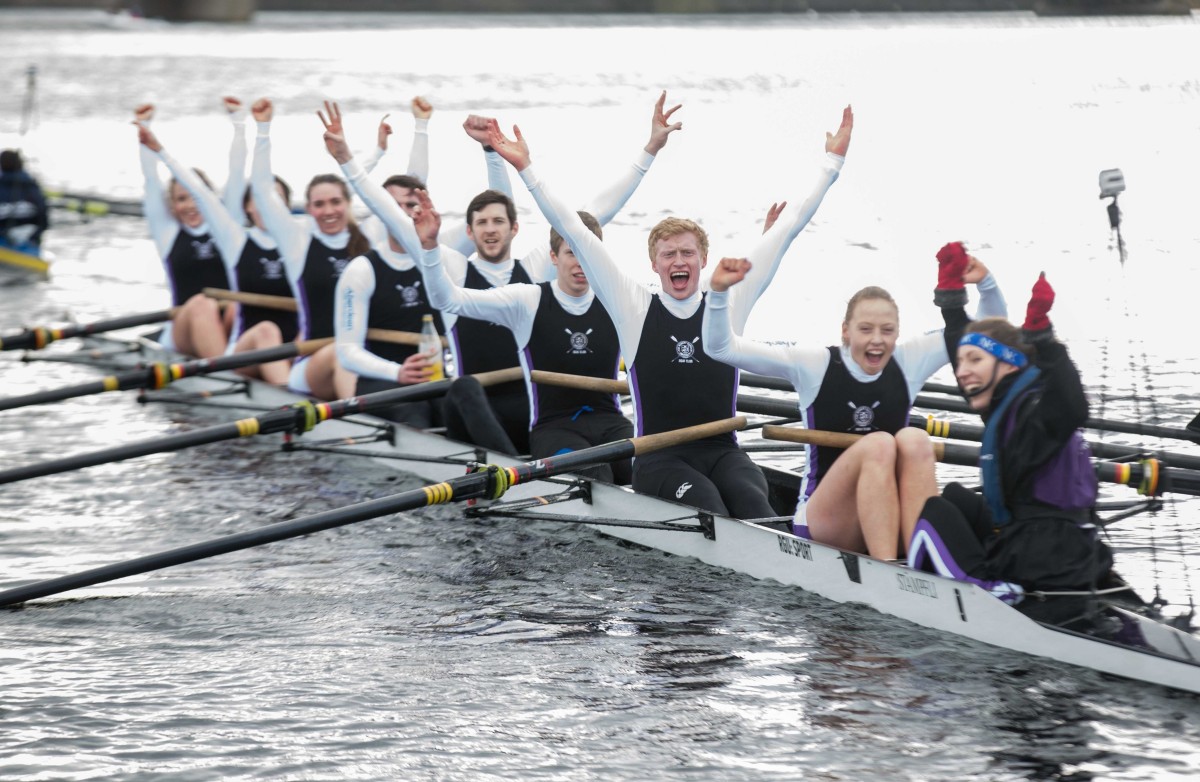 Robert Gordon University has won the 2014 Aberdeen Asset Management Boat Race for the third consecutive year.
They won with a record breaking time of seven minutes and 47 seconds, beating rivals Aberdeen University by two lengths.
Despite losing the race, Aberdeen University also broke the original record of eight minutes and one second with their time of seven minutes and 54 seconds.
Encouraging cheers could be heard from the Bridge of Dee to the Aberdeen Boat Club as supporters lined the banks of the River Dee to watch the universities battle it out on the water.
Gillian Paterson, president of Robert Gordon University Boat Club, says,
"Yes we did it! We secured a hat trick for Robert Gordon University with three consecutive wins! I am so proud of everyone who rowed this year, there were a lot of cold early mornings and late nights but we got there. Thank you for the continued support of Aberdeen Asset Management, Bob Newton on the Boat Race committee, our coach and crew members for making our success possible. Lauren is a fantastic president and her crew were excellent challengers as always. The whole experience was so much fun and I am already looking forward to doing it all again next year."
The Alumni boat race was won by Robert Gordon University by two and a half lengths in a time of eight minutes and 15 seconds. The Universities' second crew boat race was won by Aberdeen University with a time of two minutes and 18 seconds.
The media challenge cup was won by the Evening Depress in a time of one minute and 20 seconds, beating Original FM by three lengths. They raced 300m in coxed 'tub' pairs for the media challenge cup.
Hugh Little, Head of Acquisitions at Aberdeen Asset Management says,
"I would like to give our huge congratulations to the winning crew, Robert Gordon University. I would also like to express my admiration for each of the crew members who continue, year after year, to show dedication and determination in the lead up to, and on the day, of the race. As always, each crew put their heart and soul into the competition and both are truly worthy competitors. The atmosphere on the banks of the River Dee was electric with supporters uniting to cheer on their respective university. At Aberdeen Asset Management, we are proud to continue supporting Scotland's oldest and possibly most fiercely competitive boat race."
For further information contact:
Jennifer Kelly, Senior Account Executive, Tricker PR
Email: jkelly@trickerpr.com
Telephone: 01224 646491
Follow the 2014 Aberdeen Boat Race on www.facebook.com/AAMBoatRace or on Twitter @2014BoatRace.