A date has been confirmed for the 19th Aberdeen Asset Management Universities' Boat Race. With thanks to Jennifer Kelly.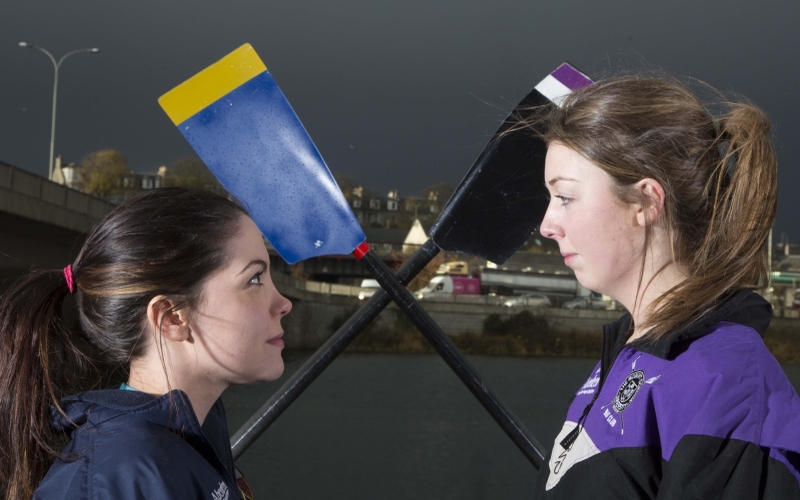 Victors of the 2013 Aberdeen Asset Management Universities' Boat Race battle, Robert Gordon University, have challenged AberdeenUniversity to race for the 19th time on Saturday 1st March 2014. Competing for victory, the rival Universities' will meet on the River Dee at 13.45 for the much anticipated annual sporting event.
Aberdeen University Boat Club (AUBC) president, Lauren Cammaert has accepted the challenge from Robert Gordon University Boat Club (RGUBC) counterpart, Gillian Paterson. Lauren, 23, is originally from Newfoundland, Canada but moved to Aberdeen when she was just eight years old.
For the past six years she has been studying Medicine at Aberdeen University. Gillian, 21, is from Melrose in the Scottish Border and moved to Aberdeen to study Forensic and Analytical Science at Robert Gordon University.
The north east's equivalent of the Oxford v Cambridge Boat Race will continue into its 19th year thanks to the continued support of global investment group, Aberdeen Asset Management. As part of the 2013 Aberdeen Asset Management Universities' Boat Race, supporters were asked to show their support by dressing in their university colours.
On race day, the banks of the River Dee were lined with supporters dressed in yellow and blue (AU), and purple and black (RGU). Following last year's colourful success, the 'Show Your True Colours' campaign will be continued to encourage as many people as possible to give visual, and vocal, encouragement to both crews.
Lauren comments on the annual battle:
"This may be my first year as president but it's my third year involved in the Boat Race and I am determined that through hard work, fun and good camaraderie, I can lead my crew, and ultimately Aberdeen University, to victory for the 15th time. For the second year running it would be magical to see the bank lined in yellow and blue."
Gillian responds by stating that:
"It's only my second appearance in the Boat Race, but for 2014 I think Robert Gordon University has the upper hand. We've already had a two year winning streak and together, I'm certain that we can make it a hat trick. Local support means the world on race day and we hope to see everyone cheering us on at the Boat Club dressed in our purple and black university colours."
The race takes place over a 3.5km stretch of the River Dee in Aberdeen between the Bridge of Dee and the Aberdeen Boat Club. In 2013, RGUBC won the race by two and a half lengths in a time of 8 minutes, 18 seconds. To prepare for the March race, both crews have already undergone months of gruelling training, including 6am starts on the river.
Each of the 18 rowers and accompanying coxes will take just under 300 strokes to complete the race, pushing their physical and mental endurance to the limit.
Martin Gilbert, chief executive of Aberdeen, comments:
"The turnout for the 2013 race was superb, with more supporters 'showing their true colours' than ever before. Aberdeen Asset Management is proud to back a major sporting event in the city of Aberdeen that receives such enthusiastic local support. The young, athletic talent showcased each year never fails to surprise me and I'm sure 2014 will be no different. Our continued support of the boat race stems from the company's roots in the Granite City and now, in its 19th year, it continues to be an extremely popular event."
Follow the 2014 Aberdeen Asset Universities' Boat Race and show your true colours at www.facebook.com/AAMBoatRace and at https://twitter.com/2014BoatRace.