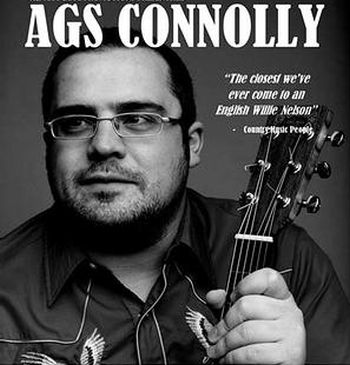 By David Innes.
With a growing reputation for giving classic country writing and performance a new, contemporary British sheen, Ags Connolly impressed a respectable Blue Lamp crowd keen to see if the favourable reviews could be borne out.
It should never have come down to his competing with the Dons re-arranged Friday evening home game against Motherwell.
This show was trailed months ago, but promoter Martin Raitt is a Dons fan too and has no plans to organise gigs for 3pm on Saturdays, if they are ever played at that time again.
Coincidentally Ags revealed that his favourite player is Dons legendary 'keeper Jim Leighton and wore red since he was in Aberdeen.
The songs from his debut album How About Now were the core of his interval-scorning 90 minute set, interspersed with classy songs from Connolly's heroes and influences, including Kris Kristofferson, Shel Silverstein, Robert Earle Keen and Guy Clark.
Responding to audience requests, Ags delivered Johnny Paycheck's 'Trusty Companion' immaculately, and led a Dale Watson singalong of 'I Lie When I Drink'. The autobiographical 'I Saw James Hand', from How About Now paying homage to the 'hillbilly spirit who appears as a man' was followed by a Hand song in tribute. His single 'When Country Was Proud' was enthusiastically received, 'my rant' as he described it.
It is heartening that the original Connolly material, including the road-tests of new songs which he claimed tongue-in-cheek would 'be on a bootleg within hours since this is no doubt being streamed to a pirate website' stood up very favourably in the company of those of the giants to whom he paid tribute.
It was a delight to spend a couple of hours in this hard-working and affable man's company. That second album promises to be a treat too.
Links:
www.agsconnolly.com
www.almostbluepromotions.com
www.youtube.com/watch?v=PPiEWhI_YaM