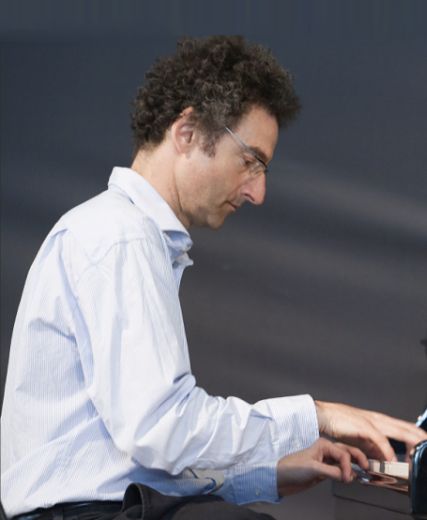 With thanks to Cindy Douglas.
Capetown-born pianist-composer Philip Clouts takes his new quartet to Scotland for the first time on a tour from Nov 1 featuring Aberdeenshire-based singer Cindy Douglas on the opening concert.
Clouts is steeped both in the music of his native South Africa and in a diverse range of world music  he has explored to critical acclaim with his larger outfit ZubopGambia (featuring BBC World Music award winner Juldeh Camara) and which continues to inspire his compositions.
His new group, which features saxophonist Tom Ward, of the Madwort Saxophone Quartet and Porpoise Corpus, former Yasmin Levy bassist Tim Fairhall and Yamaha Jazz Scholarship-winning drummer Dave Ingamells, plays uplifting melodic jazz in moods ranging from lilting calypso to driving Latin American grooves, hypnotic swirling melodies, klezmer, township rhythms and gospel-fired hymns.
After living in London for many years and building a career that has included appearances at Ronnie Scott's, Symphony Hall, and Glastonbury and Womad festivals, Clouts moved to Dorset where he has added music reflecting the sights and sounds of the area to his canon.
He issued the first fruits of this new phase on the album Sennen Cove in 2010, attracting airplay on BBC Radio 3, Jazz FM, UK Jazz Radio, and Radio Bremen. A further album, The Hour of Pearl, followed in 2013, receiving enthusiastic reviews from leading UK jazz magazine Jazzwise and The Guardian and wide exposure on radio.
The album, which takes its name from American author John Steinbeck's description of "the interval between day and night when time stops and examines itself," will form the basis of the new quartet's repertoire on this tour.
"Pulsating groove-orientated music…distinctive…spiritual and soul jazz…strongly melodic themes" – Jazzwise
"Combines lightness of touch with a rhythmic sensibility: a winning combination." – All About Jazz
Sat Nov 1 – With special guest Cindy Douglas: Auchenblae Village Hall, Main Street, Auchenblae, Laurencekirk AB30 1WQ 8pm 07840 884973 www.cindydouglas.co.uk
Sun Nov 2: The Jazz Bar, 1a Chambers Street, Edinburgh EH1 1HR 9pm 0131 220 4298 www.thejazzbar.co.uk
Mon Nov 3: The Inn at Lathones (By St Andrews), St Andrews KY9 1JE 9pm 01334 840494 www.mundellmusic.com
Tue Nov 4: Lemon Tree, West North Street, ABERDEEN, AB 24 5AT 8pm 01224 641122 www.aberdeenperformingarts.com
Wed Nov 5: Glasgow Woodend Tennis & Bowling Club, 30 Chamberlain Road, Jordanhill, Glasgow G13 1QG 07944354459
Thu Nov 6: Carnegie Hall, East Port, Dunfermline KY12 7JA 8pm 01383 602302 www.onfife.com