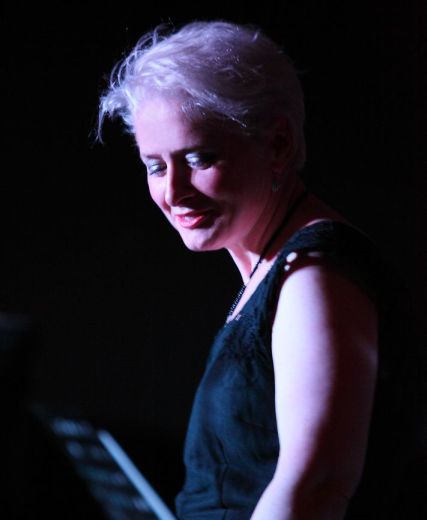 With thanks to Cindy Douglas.
This season people get the opportunity to treat taste buds, ears and eyes at a
unique cultural event organised by one of the UK's brightest emerging jazz singing talents.
Following its successful launch at the end of 2013, Scottish jazz singer Cindy Douglas' venture Eat to the Beat has now hit the road, with dates being planned for all around Scotland, kicking off on the 14th of June in the village of Banchory, Aberdeenshire.
Cindy says about the event:
"Jazz is normally an event either performed in a traditional setting like a concert hall or relegated as background music in a bar. I came up with the idea to create 'pop up jazz supper clubs' after enjoying the experience of larger city jazz clubs where people can enjoy dinner and jazz at the same time, in intimate surroundings with great atmosphere."
The first stop on her new Eat to the Beat tour is The Guide Hut in Banchory, on Saturday the 14th of June.  Then Birnam Arts Centre in Dunkeld
on the 21st of June.  Both of which will be transformed into a sophisticated jazz club and restaurant for that night only. To add to the entertainment mix, both venues also include art exhibitions, which will be open for viewing to supper club attendants on the night; Beatrix Botanist at Birnam Arts Centre and Mel Shand's 'A Portrait of the River' at Banchory.
Cindy took her inspiration for the event from more cosmopolitan venues where similar events take place.
"I think of Ronnie Scott's in London and The Blue Note and The Village Vanguard in New York. These are places where food is part of the experience that turns going out for dinner into a full night out. The village halls and café's my event takes place at in Scotland, may be miles away from these venues in every sense but I think we can give people in these communities a great opportunity to socialise and make their night out one to remember for all the right reasons."
Cindy Douglas, who is based in Aberdeenshire, gigs regularly in Scotland and has developed a broad repertoire that ranges from swing to post-bop and encompasses everything in between. She has studied with some of the world's leading jazz vocal educators, including Mark Murphy, Sheila Jordan, Jay Clayton, Anita Wardell, and Liane Carroll and her singing style has been described as exuberant, mesmerising and versatile.
In 2012, Cindy released her first album, My New Jive, which was recorded in London with pianist Tim Richard's trio to critical acclaim.
She will also be playing at this year's Edinburgh Jazz Festival. Debuting her new show 'Lady Day and The Prez', paying tribute to the enduring musical legacy of Billie Holiday and Lester Young.
"Singer led jazz with a smile on it's face." – The Musician
"The extremely talented vocalist sings with all her heart and soul and her glamorous voice reflects that." – Jazz Beat, Voice of America
Comments enabled – see comments box below. Note, all comments will be moderated.