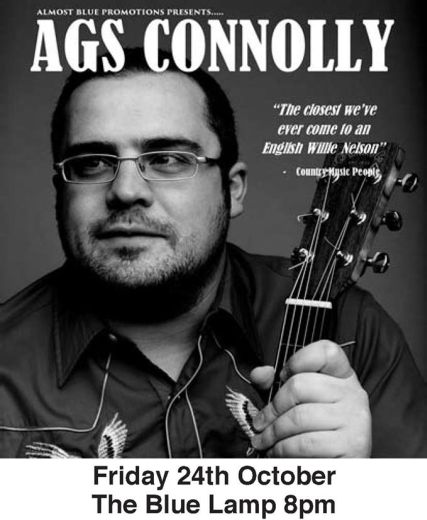 With thanks to David Innes.
Ags Connolly, described as 'the closest we've ever come to an English Willie Nelson' by Duncan Warwick, of Country Music People, makes his Aberdeen debut at The Blue Lamp on Friday 24 November following on from his last Scottish show at Perth's Southern Fried Festival in July.
His debut album 'How About Now' was released in February 2014 and reviews have been incredibly positive, especially for a first outing, and he has just released a video for his first single 'When Country Was Proud'
Almost Blue Promotions are excited about their coup in bringing Ags north, and this show is guaranteed to add to the agency's already-excellent reputation in the city and its hinterland.
What the reviewers have said:
"One of the best records you are likely to hear this year…so strong is Connolly's writing, dare I suggest that Ags Connolly is the closest we've ever come to an English Willie Nelson? Yes, he's really that good, and his voice is unique." – Duncan Warwick, Country Music People
"How About Now is a masterpiece of British country" – Maverick
"A compelling debut" – Independent on Sunday
"One of the most promising new talents on the Brit country scene" – Record Collector
"Drop all the qualifiers, discounts, and rhetoric about origin, Ags Connolly deserves to be considered right beside his Stateside counterparts as one of the carriers of the country music holy ghost whose carefully-crafted songs can speak to the human heart universally, irrespective of borders" – Saving Country Music
"Extraordinarily accomplished…hard to believe that it's a UK product. As good a country record as you're likely to hear from anywhere this year" – Flyinshoes Review
Tickets are available now for £8.80 from
http://www.seetickets.com/event/ags-connolly/the-blue-lamp/803674/ or http://www.aberdeenperformingarts.com/events/ags-connolly
Buying directly from www.almostbluepromotions.com/#!buy-tickets/cq91 will avoid the booking fee, or, if there are tickets left, they'll be available at the door for £10.
Links: