The past year has been a particularly active year for Aberdeen and District Campaign for Nuclear Disarmament who have broadened their activity on a number of fronts. Jonathan Russell writes.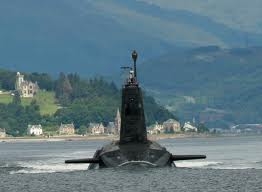 We now have our own Facebook page which has been putting out related news items on most days with several articles often appearing on the same day.
The amount of information coming out about Trident and nuclear weapons in general has escalated over the past year particularly in relation to the Independence debate.
The information being sent out to those that have signed up to our yahoo groups e-mail list has also increased.
This particularly relates to information being sent out from the Scottish Campaign for Nuclear Disarmament but also reflects our own activity and information being sent in by individual members.
We have also run a series of articles in Aberdeen Voice, our local alternative on line newspaper, on the effects and Economics of Nuclear Weapons. Aberdeen Voice has also been particularly helpful in advertising our events. We have also had some publicity on STV and in the Evening Express and Press and Journal. The SNP and the Labour Party have both been helpful in circulating information as have the United Nations Association, Aberdeen Against Austerity and the Aberdeen branch of Scottish Palestine Solidarity Campaign.
Our public stall outside Marks and Spencer took place weekly during the warmer months and allowed us considerable interaction with the general public. We also had stalls at an Anti- Racist event at Aberdeen Trades Union Council and at One World week at St Mark's. Last, but by no means least, we have managed to get letters published in the Press and Journal and Evening Express.
Public Meetings
We continued to have regular meetings on the second Monday of the month and these have included talks on a variety of subjects:
Dave Watt gave a talk on nuclear accidents which was published in Aberdeen Voice.
Mike Hennessy gave a talk on the nuclear tension between India and Pakistan.
Jonathan Russell gave two talks: one on the Arms Trade and the other on Korea and the wider Asia Pacific ,both of which were published by Aberdeen Voice.
The main public meeting of the year however was with Bruce Kent, Britain's most famous peace activist.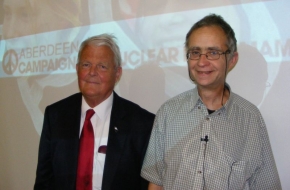 The meeting was held at Aberdeen University and hosted by the student/youth United Nations Association.
We also arranged for STV to interview Bruce which was subsequently broadcast on their news program.
Bruce's visit was part of a wider tour of the East of Scotland co-ordinated by ourselves which also included Inverness, Brechin and Dundee.
We had representation at the Annual General Meeting of the Scottish CND and three meetings organised by the local and youth branches of the United Nations Association; one with Des Browne, a former Defence Minister under the Labour Government and now Co-chair of the BASIC Trident Commission, and a meeting with Malcolm Savidge, the former MP for Aberdeen North and Vice-President of the United Nations Society and ONE WITH Alexandra Buskie UNAUK R2 programme officer Alexandra Buskie on 'The responsibility to protect and the prevention of mass atrocities'. Jonathan and Mike have attended local UNA organising meetings and Mike is now represented on the committee.
Members of the group also attended the Scotland for Peace conference at the Scottish Parliament with speakers from Finland, Ireland, England and Scotland.
Events
We continued with our two regular events; the Hiroshima Memorial Day and our Poetry and song night.
Hiroshima Memorial Day
Hiroshima Memorial Day takes place on August 6th, the anniversary of the dropping of the first atomic bomb. At the memorial we have a number of speakers, some poetry and songs then a one minute's silence. Then in a particularly atmospheric gesture, we float 200 candles onto the River Dee, each of which represents 1,000 of the 200,000 people killed at Hiroshima and Nagasaki.
Speakers included Barney Crockett, Leader of Aberdeen City Council, Kevin Stewart SNP, MSP for Aberdeen Central and Tommy Campbell of the Unite union.
We also had speakers from the Green Party, the United Nations Association, the Quakers and the Aberdeen branch of the Scottish Palestine Solidarity Campaign. Hilda Meer's poetry was read and Kirsty Potts sang some rousing songs prior to the candles being sent down the river. We have run the event since 2009 and each year the attendance has increased.
Thanks go to all those that helped with the candles and all those who attended this very positive event.
Poetry and song night
This annual event took place at the Quaker meeting house on International Peace Day.  Songs were sung by Kirsty Potts, Dave Davies, Dennis Shepherd and friends and Simon Gall.  Poems were read by members of the group with special thanks going to Hilda Meers both for her poetry reading and for the poems from her recently published poetry book 'Pathways' published by Braswick.
New Year Party
We had a very successful New Year 2013 party at Jonathan's.
A number of member and supports have sent letters to the Ministry of Defence and we encourage others to do so.
We encourage people to sign our petition and to sign up to the 'No Nuclear Weapons here' map which is available to sign up to online at naenuclear.org
Looking ahead….
2013 is likely to be an exciting and eventful year:
 We have taken the lead in organising a public debate on NATO scheduled for Friday, 22nd February and hosted by Aberdeen University Politics and International Relations Society. The speakers will be John Finnie, one of the two MSPs who resigned from the SNP following their Conference decision to reverse their previous policy of keeping out of NATO. Alex Johnston MSP will speak in favour of NATO on behalf of the Conservatives.
Alan MacKinnon of Scottish CND will be one of the speakers at a conference organised by the Politics and International relations society at the University of Aberdeen entitled the 'Global War Over Resources' on 6th March.
Dr Nick Gotts will be speaking on the nuclear question in relation to Iran at our meeting on Monday, 11th March.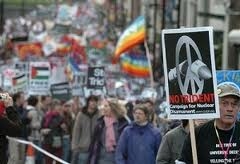 One of the most significant events of the year will be the weekend of action scheduled from Saturday 13th April to Monday 15th April organised by the Scrap Trident Coalition. This will involve the following:
National Stop Trident Demonstration on Saturday 13th April
Workshops on Trident and non-violent direct action on Sunday 14th April
A blockade of Faslane Nuclear weapons base from 7am on Monday 15th April
We will be holding our annual Hiroshima Memorial Day on Tuesday, 6th August.
We will also hold an event on International Peace Day on September 21st in which we hope to involve a variety of organisations and people
Last, and by no means least, we will hold regular stalls outside Marks and Spencer on Saturday afternoons during the summer months.
I would like to thank everyone in whatever way who has participated in the work of Aberdeen and District Campaign for Nuclear Disarmament over the past year. Particular thanks go to Christian Allard for setting up and operating our amazing Facebook page, to Sally Dickson for doing all the minutes and inspiring us to have stalls and to the forever present and diligent Mike Martin.
Jonathan Russell – Chair Aberdeen and District Campaign for Nuclear Disarmament.