Old Susannah looks back over a week in Aberdeen which felt like a month whizzing by in a day and wonders how much of it was real, and how much more connectivity she can make sense of.
The past week in the Granite City was as vibrant and dynamic as you could have hoped for.  There were walks and photos on Tullos Hill, and photos taken on Belmont Street, to the outrage of security guards.
The opening of the exhibition at the Pier (that's one of the empty shops at the Academy shopping centre in case you didn't know) for the six design finalists was of course the pinnacle of everyone's week if not existence.
On the VIP ONLY opening day, an entire 5 people showed up before 9am to marvel at the designs.
These were our very own Lord Provost, Jennifer Craw, Aileen 'Ho'Malone, Kate Dean, and a charming blonde woman with clipboard, supposed by many to be Zoe Corsi from the BIG Partnership.
It was as if all my Halloweens had come at once.
She saw me about to take a photo (yes, I fully admit I was going to take a picture, it is a fair cop) and came out of the building to tell me photos weren't allowed.  Laughingly I told her that I was on a public street.  To teach me a good lesson I shan't soon forget, she said 'OK then' and obligingly struck a pose.  I feel obliged to reproduce it here, along with the picture that Security initially banned.
Look away now if you are of a sensitive disposition.  It all becomes clear why they were so keen to stop me.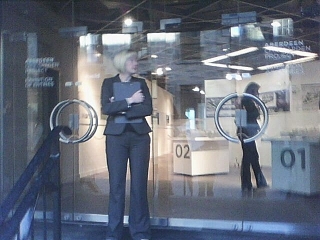 There are six finalists.  The competition was very, very stiff (so stiff I suspect rigor mortis had set in), and there were many good submissions.
But there can be only six. Choosing these finalists was very difficult, and a bit of an agonising process as well, I don't mind admitting.  And I put my hand up – there is no way I could do a better job than any of these finalists; and probably could not have done as well as they did either.
All are to be congratulated for getting this far, and I mean that sincerely.
Without further ado here are the six finalists – for the best reviews of the preposterous, ridiculous, unworkable, ugly, childish, regressive, anti-elegant pieces of tripe which were shortlisted to destroy Union Terrace Gardens.
1.  The Monolith
A beautiful and concise summary of the design which looks like a game of Jenga played badly at 3am.  Nothing to do with Aberdeen.  Even less to do with the garden.  Everything to do with' 2001: A Space Odyssey'.    In the words of those on Facebook (which all the young people use for 'connectivity' and so on), the Monolith design is something 'we can worship at the foot of'.
The supporters of Monolith are 30 strong,  at the time of writing, the Official City Garden Project Exhibition Facebook site has 68 members.  Yes, that's right:  the 'silent majority' who want the gardens built on have come out in full force.  Please do visit the Monolith Facebook Page https://www.facebook.com/VOTEMONOLITH?sk=wall for a full set of photos, and some colourful prose.
2.  The Alternative City Gardens Design Contest
The artwork here is superior to anything you will see in the Pier.  The people who created this page understand design principles, scale, colour and aesthetics to a degree our shortlisted official designers can only dream of.  There are pterodactyls, sunken Statue of Liberties, giant slides, flying saucers and other elements worthy of your attention.  The designs I see on this page are as affordable, attainable and desirable as anything you will find in the Pier.  Please register your approval at:
https://www.facebook.com/VOTEMONOLITH?sk=wall#!/pages/Alternative-City-Gardens-Design-Contest/251979328187602 At present this worthy effort has 40 people who like it.  Do scroll all the way down, or you might miss the 'Colossus of Woods'.  Beautiful and stirring.  And I do like stirring.
3. TeletubbyLand
I nearly spat out my Tubby 'ustard and Tubby toast when I came across this entry, immediately shortlisted as one of the six finalists.
Yes, someone has gone back to the set of the Teletubbies and re-created all those walkways.  I see no potential problems with concrete walkways ascending and descending some 50 feet or better above the gardens.  No one will fall, jump, slip or be pushed; they will be great for bobsled practice in the winter, and police will be able to respond to any crime on the ground in seconds.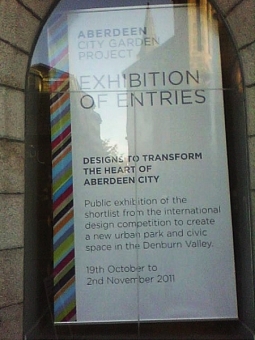 If we covered these great concrete slabs with something to stop anyone throwing empty beer cans at those below, then we'd have a giant cage.  Result!  A Facebook poster has revealed that Tinky Winky is the mysterious £5 million pound donor towards the garden project going ahead.  To this particular vision of our future, just say 'Po.'
I only hope there will be a chance in all of this for me to attend an event where the designer(s) of Teletubbyland have to explain to a room full of grown-ups just what they were thinking.
Oh, and as reminder, for the shortlisted designers, a prize is awarded of somewhere in the region of £135,000.  £135,000 for a drawing of the set of a kids' tv show or a monolith.  I must go find a definition of either 'value for money' or 'old rope.'   Dipsy would be proud.
4.  The Giant Glass Worm on 'The Future Is Here'
We aren't supposed to reveal who any of these creative masterminds are, but when you visit this website – which is a must – you will soon realise that No. 4 and No. 5 of my shortlist are both by this design giant.  His observation of the glass structure proposed somehow to cover pedestrians, cars and trains may be one of the worthiest submissions yet:
"The worm doesn't actually devour the humans, It appears to simply wine and dine them. Like a giant larval bad date" – Fraser Denholm
Obviously there won't be any issues with air quality, safety, cleanliness (or just plain stupidity) if we make a giant glass worm cover people, trains and cars.   Will smell lovely inside I'm certain.  Birds will persuaded not to deface the beautiful worm by either defecating on it or crashing into it.  Likewise vandals would never be tempted to do anything to a giant glass structure covering a road or train track.  Why didn't we think of this sooner?
Hats off to you Mr Denholm.  A job at Foster & Partner surely awaits.
The best part of the serious submission is some giant banners in the worm's body which for no particular reason read 'science'  on them.  These will soon be for sale as tea towels in every city centre souvenir shop which this project will deliver.
http://fraserdenholm.blogspot.com/2011/10/future-is-here.html
5.  'I can't believe it's not Halliday Fraser Munro!' (the underground bunker with no ventilation and with trees without roots growing on top of it).
Mr Denholm delivers some spectacular laughs, but we do have only six places on the shortlist.  His prose is brief on this lovely design, but is incisive.
This design gives us all the underground lifestyle we can only dream of – no sun, no natural light, and not even any air vents of note, for if they were included, they would be very large and visible in the garden.  The garden features giant trees which very thoughtfully don't  need to have any roots.  Most plants have underground parts that are at least as large as their 'aerial' parts.  Not these ones.
Four-hundred-year-old trees are so yesterday. 
Get rid of those, the things living in them, and get some of these magic, rootless trees.  Denholm also correctly identifies the rice paddies (they can't be anything but) which grace another shortlisted design.
With all this connectivity business,  I'm starting to wonder whether all these people pushing the project forward are in some way 'connected.'  Maybe even well connected.
6.  The Garden of Earthly Delights (H Bosch)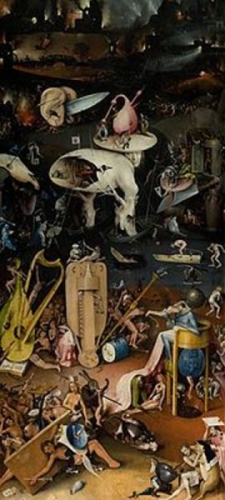 Normally in an important competition, it would be wrong to include yourself, friends or family members, but this is my late-breaking entry for the competition.  It's not as if there are any family ties between the official competition companies, entities, sponsors, backers and so on.
Feel free to vote for my design, which is also on the Alternative Garden Project site.
I think it nicely captures the place where the garden scheme movers and shakers are heading.  And it's got a space for musical performances, and access at all sides.
When you do visit the Pier, pay attention to all the lovely drawings.  See the trees that cannot exist if something is built under them.  See the lovely people walking around casually, just like you'll be doing in February.
See the complete absence of logic.  If Star Trek's Mr Spock were real and went to this show, he'd have a breakdown.  Comfort yourself with the fact there are several good pubs nearby.  You will need one.
And there you have it.  I have sadly taken up so much space with the finalists that there is only room for one definition.  For some reason this sprang to mind.
Boycott
(noun, verb – modern English)  to embargo, ban or cease trade or activities with a person, company or entity. 
Folks – has someone or some company taken advantage of your good nature for too long?  Is, say, a football mogul asking you to ultimately pay (via an 'uplift' in retail tax) to turn your Victorian garden into Teletubby land?  Has such a person sent letters to the press 'warning' that unless we build a monolith or worm, the city is going to fail?  Has a certain chemist likewise said that a concrete spider web will save us and we must all stick to it?  Has a certain councillor said that you need to support a monolith and monorail?  Has a hotelier called you a luddite NIMBY for not wanting a big bunker in er, your backyard?
Whatever can you do about it?
Well, if you wanted, you could boycott these and other like-minded businesses and business people.  Don't shop with them.  Don't use their premises.  Don't for the love of Pete vote for them.  Don't spend your hard-earned money to watch their football team lose, and don't (for many reasons) buy a house from them.
If everyone were to boycott people who used their power in ways the public did not wish, then things would change.  And not into a giant worm either.
Next week:  who knows?
Reminders: 
1. Please keep your artwork coming for the Union Terrace Gardens art contest, which (because of lots of stuff) has not closed yet.  Alternative designs for the garden project most welcome.
2. Anti-deer cull postcards still available – get in touch if you need some; I know where they can be found.