Individuals and organisations throughout the North of Scotland are being encouraged to get behind a campaign to ensure current connectivity to and from London and the rest of the world is maintained in future years. In this piece issued on behalf of Nestrans & HITRANS by The BIG Partnership, Nestrans sets out its position.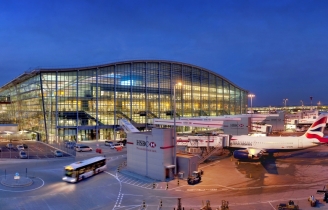 Nestrans and HITRANS, the statutory regional transport partnerships for the North-east and Highlands and Islands respectively, are hoping to persuade the European Union to exert powers to protect the current slots enjoyed by Aberdeen and Inverness, particularly in light of the proposed development of High Speed Rail to Edinburgh and Glasgow.
Chair of Nestrans Ian Yuill explains the rationale behind the move:
"The business case for High Speed Rail being extended to Edinburgh and Glasgow is significantly stronger than the case for London to Birmingham and supporting such an extension would provide significant benefits to London and England. This will not only come from increased connectivity between the central belt of Scotland and the North and Midlands of England benefiting both sides of the border but will also reduce very substantially the numbers of flights between the major cities of the UK and London. This reduction in flights will free up slots at London airports that can be used for other destinations.
"Nestrans and HITRANS have argued that for the small proportion of the country's population not directly benefiting from this huge national investment, that proportion whose surface journey time to London would be over the recognised three hours cut off time, which would include Aberdeen, Inverness, Belfast, Newquay, Isle of Man and the Channel Islands, alternative arrangements should be made to secure the connectivity required.
"This would mean securing access for existing landing slots at south east airports for these peripheral regions and, speaking on behalf of the North-east of Scotland, it cannot be overemphasised how important an issue this is. This is not about improving the level of service and through it access to our key markets but maintaining it at a time when the critical south east airports are full and pressure is on regional services to give way to long haul routes. "
In addition to collating the views of businesses and individuals, Nestrans and HITRANS are currently looking for politicians to add their weight to the debate in advance of the UK Government's aviation consultation, from which the EU will consider options for aviation policy going forward.
HITRANS chairman Duncan MacIntyre said:
"The whole country can benefit from the massive investment in High Speed Rail and the bright economic future of the North of Scotland can be achieved to the benefit of the UK economy as well as locally if our air connectivity is not compromised.
"Our global businesses are making it clear that they wish to anchor in the North but that this is a decision that will be influenced greatly by their ability to do business from their current location."