By Deborah Cowan.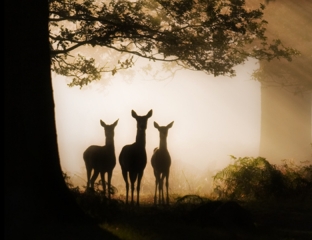 Lush stores in both Edinburgh and Aberdeen are hoping to raise awareness for the 'Save the Tullos Deer' campaign by having an Edinburgh to Aberdeen cycle ride.
Team members from Lush Edinburgh are giving up part of their annual leave, to cycle to Aberdeen beginning on Monday 18th of April with an estimated arrival in Aberdeen on the morning of Wednesday 20th April.
They will be wearing T-Shirts with the logo 'TOO DEER A PRICE TO PAY' and hope to raise awareness of the campaign along the way.
The Aberdeen City Council intend to plant saplings on Tullos Hill as part of the 'Tree for Every Citizen' project. It is feared that the deer that currently residing on the hill, will eat these saplings, and so a cull of the deer is planned go ahead on the 10th of May 2011, unless the citizens of Aberdeenshire can raise £225,000 by this date to prevent the cull. This money would go towards deer proof fencing, tree guards and other deer proofing measures that the council is unwilling to provide and instead have chosen to go with the cheaper alternative of culling the deer.
However, Lush and other concerned citizens feel the onus should not fall on the public to raise the cash or that if the public are to fundraise to save the deer, then the time frame provided for this is too short and unrealistic.
Opponents of the deer cull are not saying that the 'Tree for Every Citizen' project is not a creditable initiative and many applaud the scheme for planting more trees around Aberdeen. However Lush feel the culling of the deer is unnecessary and cannot support the needless destruction of wildlife when there are better alternatives that could provide a deer proof environment for the new saplings and an improved habitat for the deer, who are some of the primary inhabitants of Tullos Hill.
Lush also points out that culling the deer in the Tullos Hill area will not prevent other deer from moving in and grazing on the unprotected saplings anyway, with a net result of destruction of the saplings and the needless loss of a unique local deer population.
Lush are encouraging all concerned members of the public to show their support by signing the in-store petition at Lush Aberdeen on 81 Union Street.
Also, all proceeds made from purchases of Lush Charity Pot (hand and body lotion) on the Monday, Tuesday and Wednesday of the 'Save the Tullos Deer Big Cycle' will go towards helping the local Aberdeen groups campaigning against the deer cull and pressuring the Aberdeen Council into looking at the viable alternatives to wholesale wanton destruction of local wildlife.