In our final extract from Suzanne Kelly's interview with former RGU Principal Dr David Kennedy, he describes how the community came together, in the face of serious local business opposition, to help RGIT achieve university status in 1992, how that community spirit inspired him to raise his voice against the Menie development, and how he still gets a buzz from teaching and seeing its benefits.
"At least one good thing came out of Trump", David Kennedy is convinced, "Community spirit".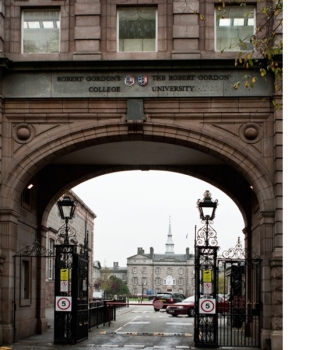 "Twenty years ago the Government had a policy to make polytechnics into universities. Here in Scotland they decided there would be two new universities, not very good ones I may say, one in Edinburgh and one in Glasgow. These two institutions, which previously had been local authority colleges, became centrally-funded in 1985, thus enhancing their status.
"Then in 1988, Napier in Edinburgh called itself a polytechnic, followed a couple of years later by Glasgow College who renamed itself Glasgow Polytechnic.
"The older technological institutions in Aberdeen, Dundee and Paisley still retained their old names, that is, they had not called themselves polytechnics, even though they were wholly polytechnic in educational status and character, and were longstanding members of the UK committee of polytechnics. My fellow principals simply assumed that their institutions would be included in the forthcoming legislation.
"Being a suspicious person, I phoned the Scottish Office and asked if it were right that all were going to become universities, or only the titular polytechnics? The Scottish Office spokesman confirmed that only the polytechnics would become universities. I mounted a massive campaign. RGIT, with its long and proud record in higher education, had produced several times more graduates and PhD students than Edinburgh and Glasgow put together.
"Behind the scenes, Ian Wood had played a significant part in the formulation of Government policy.
"Wood was from an old fishing family. When the offshore oil industry started in Aberdeen, there were many opportunities, and several fishing companies decided they would go into the supply vessel and stand-by vessel business. Wood was quite entrepreneurial and in the right place at the right time.
"In 1986 there was a massive drop in the price of oil, and many companies just went belly up. Ian Wood had good financial backing and mopped up a number of firms going into liquidation during that massive downturn. He was the man who persuaded the Government that Aberdeen needed a world-class university and thus didn't want RGU to become a university.
"The irony is that the current RGU chancellor is Ian Wood, the man who did his utmost to prevent RGU becoming a reality. The people of the North East supported me in my hour of need and I wanted to return the favour and support the people of Menie Estate."
Dr Kennedy's strict values have not always been popularly received, however. He describes a time in his own professional life where he had to survive criticism.
"In 1992, the Queen said it was her annus horribilis. The following year was mine. Practically every day the local papers had me as the controversial man. As a result of that I have never read The Press & Journal or Evening Express since. Alan Scott who is just retiring is a good friend, but they had Derek Tucker back then. When I first came to Aberdeen, Peter Watson was the editor and he was a gentleman.
"The standards in the press have gone down, as we've seen. I was a victim of it all in 1993. I was eventually vindicated in the courts, but as the old saying goes – 'if you throw enough mud some will eventually stick'. I was blacklisted by officialdom.
On the subject of his own fulfilment, Dr Kennedy returns to education, his own profession for which a passion still burns 
"As it turns out, I do a lot of voluntary teaching and I am a befriender. I currently have about ten students, adults who missed out at school in English and numeracy. I suppose in a way I am a born teacher and I fulfil myself by teaching others who are in need.
"There is satisfaction in helping other people. We must be hot-wired for it, for a cooperative nature. It is infectious. It is more fulfilling than materialistic fulfilment. When I see people understanding things for the first time, that is a terrific kick for me."
Voice, and Suzanne in particular, are grateful to Dr Kennedy for giving his time to talk with such passion and conviction about what continues to frustrate him, drive him and sustain his zest for improving the lives of others. We can be sure that this is not the last we have heard of him and wish him success in seeking a publisher for his book. It is certain to be of huge interest to all in the NE who have had their lives touched by his life in education and the community.