Saturday 5th October morning was sunny and crisp; a perfect setting for the unveiling and dedication of the Gordon Highlanders commemorative statue by Mark Richards.   Story by Suzanne Kelly; photos by Earl Solomon of Hart & Sign.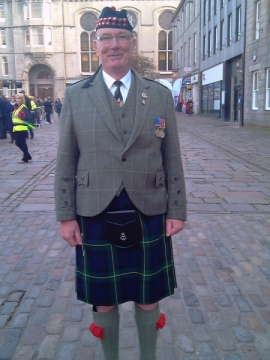 The guests of honour were those who had served as Gordon Highlanders before the world-renown unit was 'amalgamated' in 1994.
HRH Prince Charles, Duke of Rothesay and last Colonel-in-Chief of the Gordon Highlanders spoke of how he had grown up alongside this regiment, and had been surrounded by its members who formed some of his childhood memories.
"When I was a child in the 1950s my earliest memories were of the Gordon Highlanders; they suffered terribly but found their way to Balmoral" he said, naming a Pipe Major Brown and others.
"It was a proud moment for me when Her Majesty appointed me in 1977 (as Colonel-in-Chief of the Gordon Highlanders)"
"We have done my old regiment a great honour in making sure the Gordon Highlanders' history and memory will be kept alive in Aberdeen."
The Prince also spoke of the suitability of the statue's location, for the old barracks had been located at Castle Hill from 1872 to 1935.  He recalled how the unit had marched down Union Street many times.  Before he left, the Prince spoke with many of the VIP Gordon Highlanders who were seated in a special enclosure.  Prince Charles also took his time speaking to members of the public before he left.
I spoke to a number of the Gordon Highlanders, including C. McIntyre, who had joined in 1980:
"this was a great regiment" he commented.
Major Birnie – a Gordon Highlander for 39 years commented to me on the statue:
"It's marvellous – a great reminder for years to come; as soldiers grow older they are less in number.  I am thankful for this statue." 
The statue is a figurative bronze showing a standing Gordon Highlander in the older dress uniform, and the second figure is in more modern dress.
A Mrs Reid was there to see if she recognised any of her husband's former colleagues in arms; she thought the statue and dedication was a 'lovely gesture.'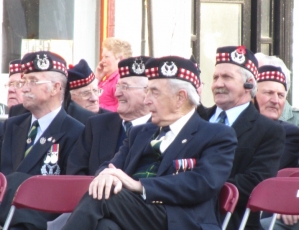 I also spoke with an acquaintance, Sheilagh.  She was there with her mother and two nieces.  One of the nieces offered that her great- grandfather had been a Gordon Highlander.
He had been shot in the leg in France during World War I.
There was talk of another Gordon Highlander (an uncle) who had seen service in World War II and had been a POW in a Japanese camp.  Sheilagh had been inspired by these relatives and had served in the RAF.
Other speakers during the day called the Gordon Highlanders 'the finest regiment in the world' and others spoke of the statue's purpose 'not in praise of war but to respect the Gordon Highlanders for their faith, honour, sacrifice and courage'.
As Earl Solomon who had photographed and videoed the event and I left, he commented as we said goodbye to some of the Gordon Highlanders we had spoken with;
"it's all about them, isn't it",
and Earl was right.
The world's greatest resource on the history of the Regiment is The Gordon Highlanders Museum on Viewfield Road, Aberdeen http://www.gordonhighlanders.com/ which offers a full programme of events, displays, and hosts private regimental dinners (not to be missed).