The simple fact of the scoreline goes a long way to summing up this match. Aberdeen will perhaps feel themselves a little unlucky not to have capitalised more on their strong performance in the first half in particular, despite finishing the game with ten men. Philip Sim writes.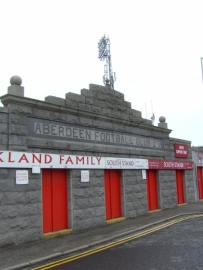 Over what must have been one of the shortest close seasons in memory, Craig Brown set out to strengthen the core of his team and build a reliable defence, and on first impressions he has done a good job of this.
New signing Youl Mawene brings an air of composure to the centre of defence, perhaps too much so on the several occasions when he had the Red Army's hearts in their throats by choosing to skin a striker rather than hoof the ball clear.
The Dons marked their first home game of the season with a defensively assured performance which ultimately lacked any cutting edge in the final third. Indeed, if anything they seemed even more in control after Ryan Jack's dismissal on 65 minutes, and debutant goalkeeper David Gonzalez spent much of the game a spectator.
Isaac Osbourne looks another solid addition who will bring some steel to the midfield, and he showed his adaptability when filling in at right-back in the chaos following Jack's sending off. Kari Arnason made a similarly strong impression when he made a belated début as a substitute for Peter Pawlett, demonstrating his determination by winning a game of head-tennis with himself as if the Saints midfield wasn't there.
St Johnstone contributed to the scoreline in no small way by setting up with an extremely defensive style; Derek McInnes has built a team which is undoubtedly hard to beat, but which offers very little going forward. The Pittodrie faithful will be hoping that Craig Brown adds to his front line with some creative attackers quickly before the Dons find themselves in a similar position.
Fraser Fyvie was one of the few bright sparks forging forward for the home side.
His second half cross which came back off the post after evading the perennially hapless Peter Enckelman was the closest the Dons came to scoring. Darren Mackie and Josh Magennis both threatened on bursts forward without seriously troubling the ageing Finn, who spent most of the game flapping badly at crosses made unpredictable by the swirling winds.
One of the biggest disappointments of the day was the performance of referee Steve Conroy. It's often said that when a match is officiated well, you don't even notice the referee's presence.
The fundamental complaint with officials in recent years has been consistency
It was not so with Mr Conroy; he embarked on a series of increasingly pedantic calls which were technically to the letter of the law, but which threatened to smother what life the gale force winds hadn't already choked out of the match.
For 90 minutes, his whistle barely left his lips. Repeatedly he called back free-kicks so that the ball could be moved back two feet to the exact blade of grass where the original foul was committed. While he probably judged the big calls of the game correctly, he endeared himself to neither set of supporters, and did little to justify the inexplicable pay rise that referees secured over the summer.
The fundamental complaint with officials in recent years has been consistency; while it's technically correct that Fyvie's first half lunge which caught man and ball merited a yellow card, Saints defender Steven Anderson will be wondering himself how he avoided a caution or even a talking to for several extremely similar challenges.
There are many positives for Aberdeen to take from the season opener, though.
For one, they are clearly going to be a more difficult team to break down and score against this season; nobody actually knows yet how good David Gonzalez might be. Ricky Foster had an excellent game on his return to Pittodrie after a year on loan at Rangers, and indeed looked every inch the captain, while Darren Mackie showed no ill effects of last season's long injury lay-off, running his heart out for the full 90 minutes.
It is worth remembering at the end of the day that Aberdeen collected zero points from both visits of St Johnstone to Pittodrie last season, so Saturday's result and performance have to go down as a sign of progress.
Craig Brown will know better than anyone how badly his side need a cutting edge up front and a bit of creativity in the final third, and this is something which needs to be addressed as soon as possible, but in the manager's own words the picture is one of  "cautious optimism."