An AGM in these testing times? Is the Pittodrie Board some sort of masochist collective? David Innes reports on the lack of blood and hair on the walls at the 107th Dons AGM held this week.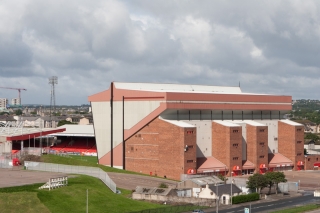 Before the meeting's business got underway, a select few of us agreed that had the board not recruited Brown and Knox last week, the chairman would have been issuing SMG construction hard hats to his top table peers, such is the anger among fans about how this season has slumped from hope to despair.
Out of respect for the new managers who attended, but were not called on to speak, politeness and reason prevailed.
The main business such meetings is formal and, to be honest, dull. Suffice to say, directors Milne, Buchan and Gilbert were re-elected and the current beancounters Deloitte and Touche approved as auditors.
The real meat of the AGM is always in the questions from the floor, and this year's subjects were predictable, which does not mean dull or uninteresting, given the club's current position.
Directors are not renowned for being wholly open. Like many politicians, they will tell you what they want to tell you rather than answer the questions posed. There were hints of that, although to be fair, not all the floor questions were questions, rather statements of opinion, which made them hard to answer.
On the new stadium, we were informed that staying at AB24 5QH is a non-starter in that new regulations would see the crowd capacity cut to 12000, the disruption during redevelopment would be considerable and that funding it would be impossible. No mention of the destruction of Loirston's beauty and tranquillity though.
…along with the forecasts for inflation, there may well have to be a rethink. Or a downsize
The funding rationale for The Aberdeen Voice Arena (aye, OK…) didn't totally stack up either. Pittodrie's value in the club accounts is a generous £17m, but this had mysteriously inflated to "around £20m" in the chairman's review, although this did include, he said, another share issue and a mortgage.
Naming rights, and one can only guess at what corporate horror that will be, letting of spare office capacity and other – unspecified – gains from Loirston developments will net another £15m. Funny, I thought £38m was the last estimate I saw and with The Big Society's VAT rise coming up in a few days time along with the forecasts for inflation, there may well have to be a rethink. Or a downsize. To 12000 capacity, perhaps?
On fitba matters, The Best Number 6 Ever gave his views, although only once did he admit that we do not have enough experience in the squad. Interesting though his contribution was, his focus was almost exclusively on youth development, which in itself is a very good thing, but will not get us out of the current downhill arse over tit panic in which we're stuck. His claim that seven of the current first 22 are contributing well to the top team is tenuous – Paton has failed to develop, Megginson and Robertson are loons trying to do a man's job, and the latter and Ryan Jack could have their careers ruined before they start through the trauma of having to cope with train wreck performances around them week upon week. Hints of new signings in January – also mentioned by Archie Knox when I buttonholed him for a short chat after the meeting – may help us finish somewhere between 7th and 9th (8th?) but did not seem to hold out hope of any sort of breakthrough success for a drifting, dozing club.
Hindsight's a fabulous musing pastime but doesn't help us get out of the torpor we're in. We are where we are. We have a large debt underwritten by two major corporate shareholders with nobody seemingly willing to step forward and offer an alternative to the stagnation this engenders. In the wider context, the SPL is a devalued competition, destined to be won by the bully boys in perpetuity unless someone grows a pair and has a go at their warm fuzzy duopoly.
The 107th AGM suggests that this won't be Aberdeen FC.