By Rhonda Reekie.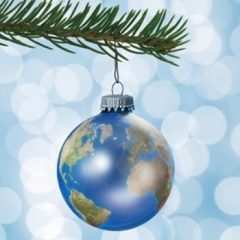 The festive season is well and truly upon us and I don't know about you, but for a week at least it makes all this snow and cold weather bearable.
In these belt-tightening times it makes sense to be environmentally aware at Xmas more than any other time, so to help keep your costs down I have  put together my top 5 green tips complete with additional idiot guide commentary.
1) Recycle your wrapping paper but more importantly buy recycled,  no point in recycling if you don't ever purchase the recycled goods in the first place! Use ribbon or string for tying up presents, it is easier, more attractive and less polluting to use than sellotape.
(Ensure the string you use is not already being used for something important like holding up yer troosers or flushing the bog !)
2) Keep warm and lower your heating bills by placing foil behind your radiators to reflect the heat back into the room and stop it being lost out through the walls.
(For the particularly frugal you could even recycle the foil from your Xmas dinner but remember to wipe off the bits of burnt turkey and oatmeal stuffing first, otherwise you could end in a bit of a gooey mess and having to repaint your walls !)
3) Recycle any unwanted Xmas presents by giving to charities. Hospitals and hospices often welcome unwanted toiletries to give to patients.
(The poor souls – I wouldn't wish my niece's thoughtful Eau de Pong box set on anybody – last year I burnt the inside lining of my nostrils at the first whiff! )
4) Use real plants, food and natural products to decorate the house . Items such as holly, ivy and mistletoe from the garden are free, fragrant and festive. You could also use dough, cinnamon sticks, sweets, oranges, apples, cloves, popcorn, iced biscuits etc.
(Don't go overboard though otherwise you'll have a lovely decorated house and nothing left in your cupboards to eat on Xmas Day! )
5) Shut your curtains to save heat and switch off your Xmas tree lights when you are not in or away to bed to prevent fires
(Okay so it will look like somebody close has passed away from the outside but it will stop those particularly festive thieving gits from looking in your window and scanning all those stealable presents)
Oh and one more tip – don't buy an animal for Xmas – they are apparently the biggest carbon footprint factor any family can save . Saying that I wouldn't give up my two moggies for nobody, no matter how much methane producing meat they eat !!
Have a very Merry Xmas and a sensibly sober New Year !!