The curse of Paisley strikes again. Saint Mirren have won just twelve games at their new stadium; a third of them have been against Aberdeen. Clearly this is not a happy hunting ground for the Dons, but it was the manner of Saturday's defeat that was particularly disappointing. Philip Sim comments.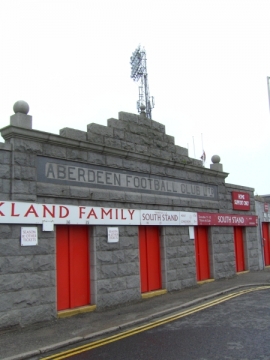 Last week's stalemate with St Johnstone painted Aberdeen as a reasonably strong and well organised side which simply lacked a cutting edge in attack, and while they looked similarly toothless going forward here, the problems seemed much more deep-seated.
Josh Magennis and Scott Vernon both drew saves from Craig Sampson in the Buddies goal, but the Dons generally lacked imagination and indeed often struggled to get out of their own half.
St Mirren by contrast actually played some very good football.
They seem a much improved side this season, with Danny Lennon having recruited quality players in Paul McGowan, Gary Teale and strikers Steven Thompson and Nigel Hasselbaink. All four threatened in the first half without actually bringing a save from David Gonzalez, and while Hasselbaink scored the only goal of the game his side missed a host of chances to ram home their advantage.
Other than some flair and creativity going forward, what became painfully clear on Saturday is that Aberdeen still seriously lack squad depth. Fair enough the Dons were missing five potential starters in Fyvie, Mawene, Clark, Jack and Folly, but looking at the bench in Paisley the Dons lacked anyone who could come on and change the game. We're only two games into the season, and already the squad seems to be down to bare bones, with unproven youngsters making up the bulk of the subs.
Injuries and suspensions are something that all teams need to be prepared to deal with, and on this weekend's evidence Craig Brown needs to make several more signings before the Dons will be ready to really compete in the SPL.
The absence of Youl Mawene in particular was a blow against St Mirren, and while Kari Arnason filled in reasonably well, looking assured in all of his play, Brown would surely rather utilise his talents in midfield. The French defender has been dogged by injuries for most of his career, and it remains to be seen if he can last the rigours of the SPL.
If he's missing games at this early stage of the season, how will he stand up to the new year schedule after the traditional call-offs which tends to cram six or seven games into a month?
The addition of Mawene, Arnason and Osbourne was meant to bring a bit of steel to the Dons, make them a tougher unit and a hard team to break down, but while only one goal separated the sides in this tie that was mainly down to the profligacy of the St Mirren front line. They created a host of chances, and Aberdeen seemed to lack any real fighting spirit – it just looked like St Mirren wanted the three points more than they did. Craig Brown and Archie Knox will strive to make sure that kind of performance is not repeated – if anyone can be trusted to put across that message, it's Knox – but if the Dons are looking to bounce right back, the fixture list has not been kind.
In their next four games, Aberdeen will face last season's top three in the Old Firm and Hearts, with the only consolation being a home tie against Inverness, currently goal-less and pointless and rooted firmly to the bottom of the SPL. That perhaps represents Aberdeen's best chance of picking up a win, but Craig Brown will need to work on some new signings and more importantly the attitude of his current crop of players before three points or even a goal will become a reality.
But it is still very early doors, and the panic button shouldn't be pushed just yet. There is the makings of a good team at Pittodrie, and with a couple of signings in key positions – up front, out wide and at full-back, in that order – we could yet see a successful season for the Dons. Get your little black book out, Craig.