Aberdeen regained that winning feeling against New Firm rivals Dundee United, quips Voice's Andrew Watson.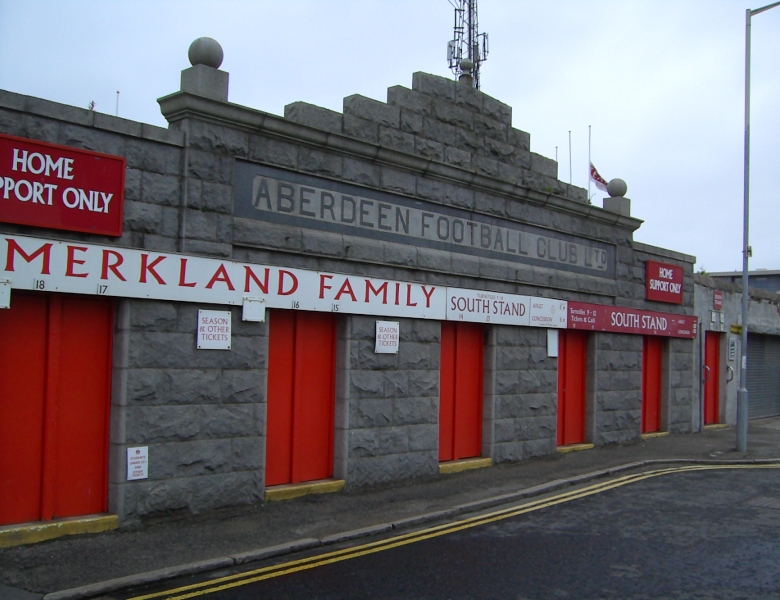 The weather was dreich and it was spitting with rain. Light rain but very wet. Was looking to be a messy, sliding and slippy encounter. There was also to be dedication to late teenager Bailey Gwynne.
The build up to the game didn't really differ much to any other, though it was perhaps apt:
"Right here/
Right now"
Fatboy Slim – Right Here, Right Now
Not much to the song, lyrics-wise, but the delivery seemed perfect for some confrontational New Firm fisticuffs.  Mascot Angus the Bull was even firing up the young supporters in the Merkland Stand; and those in the corner of the Main Stand, too.
Closer to kick-off, AC/DC's 'Thunder' boomed through the speakers. It was hoped the only thunder that afternoon would be the endeavour of the Dons in pursuit of winning ways.
The fixture attracted a decent crowd despite the recent run in question. Fitting, you'd suppose, given that there was to be a minute's silence for the follow day's Remembrance Sunday.
Aberdeen started well, with an inviting ball put out for a corner. No early goal, though.
Down the other end of the pitch keeper Danny Ward was twice forced to come out between the sticks. First to lump out the ball from danger, and second for a hasty catching of the ball.
Back up again Adam Rooney, via throw in, reached Kenny McLean but the latter was snuffed out before he could progress into the danger area.
Shaleum Logan was then chopped down for a free kick. Jonny Hayes floated in the ball too close to United's keeper, who grasped for safety.
Later Graeme Shinnie came in with a driving run but lost ball. Play continued via teammates and the ball really should've been in the back of the net.
Willo Flood, as ever it seems in this fixture against his former team, showed battling spirit to earn a deflection and goal kick for his side.
Not long after, a Dundee United attack was smothered just before one on one with Ward.
After sixteen minutes of play, there was a minute's applause for 16 year-old Bailey Gwynne.
Then Tangerines' stopper Michal Szromnik caught a potentially costly deflection.
Shinnie then got a ball into the opposition's box, going out for a corner.
Aberdeen, generally speaking, seemed to be focusing on possession rather than incision. Passing the ball sideways and backwards and just happy enough to keep the ball.
Ex- Arabs' man Flood tried one from distance, but no cigar.
Someone with a bit of hunger, Logan, was seen patting away the linesman, as the latter harried him to take his throw on the right spot. His ball then went out for a corner.
The Tannadice men then had a dipping effort go out for a corner.
Flood conspired with Hayes for a set piece. The former put in a good ball, but to no end.
Aberdeen, in attacking terms, were seeking to control the ball in tight situations instead of going for the first touch. That combined with a counterproductive emphasis on possession made for some frustrating viewing.
Captain Ryan Jack was caught looking for a foul, and with play continuing Aberdeen were fortunate to diffuse the ensuing attack.
Not long after they then had to clear their lines and were fortunate, in turn, to not be a goal down.
Flood was unlucky with some determined work into the box, but was caught with a key, intercepting tackle.
There was then a big cheer in the away end as Dundee United earned one of their first corners of the game. Then they were almost one on one, but shot wide.
It became McLean's turn to seek a foul and claim unsuccessfully. The potential ramifications though weren't as grave as that of Jack's instance.
Halftime was called right as the Dons delivered into their New Firm rival's box. The Red Army were left wondering why time wasn't called when the ball was in a more neutral position.
Come the second half Hayes persisted as danger man. His cross starting the half, however, was caught by Szromnik.
His defence mopped up a subsequent corner.
The Dons defence was then lucky that the recalcitrance of former skipper Mark Reynolds to make a challenge was rewarded with a poor headed effort by United.
The moment the Reds were hoping for finally came with Rooney exploiting a busy box. This shut up a very rowdy Tangerines' crowd.
1-0 Aberdeen after 52 minutes!
Afterwards Hayes sent in yet another perfectly weighted and dangerous ball, almost resulting in a second goal.
Later Aberdeen broke free, but were eventually shut down.
Dundee United almost foiled the home side with a low drive just past the hands of Ward and his post on the bottom corner.
McLean lofted a ball to Shinnie, but the latter's first touch controlling the ball was a poor one.
Not long after he also seemed to go down a bit softly, earning a free kick. The opportunity, however, was left unexploited.
Dundee United were making hard work of Aberdeen's bid for a second goal, and an instance of their defending in the box was exemplary. Talk about putting your head on the chopping block. Kamikaze commitment was one way of putting it.
Again, Aberdeen were scared of first touch; not knowing when to pull the trigger.
United then had a close one in the attack. This one almost shaved the opposite post, this time.
Another away attack was staved with a Peter Pawlett header. A subsequent attack, however, wasn't deal with so good. Confusion and hesitance were in abundance, and still they were let off the hook.
Hayes responded with a superb run right down towards the box of the opposition, driving a low and powerful shot into the bottom far corner.
2-0 Aberdeen in 73 minutes!
He then had a little disagreement, back outside his own box, with Shinnie as to who should be marking who. They left a free man, but thankfully didn't pay for it.
McLean was then substituted seven minutes after goal. He was replaced by Barry Robson. Niall McGinn then came on for Pawlett.
Hayes then attempted a top corner effort, though unsuccessfully. Later he was callously shoved off the ball after outplaying his opponent with a fine piece of skill.  He deservedly won Man of the Match.
United came in late with a laughable, speculative shot on goal. They skied it.
The home side, in the latter minutes, mopped up an advance rather poorly and were lucky to get away with it.
Aberdeen then made their third and final change after 90 minutes. This was to take off Hayes and bring on Liverpool loanee Ryan McLaughlin.
Final score:  2-0.