With thanks to John F. Robins, Secretary, Animal Concern Advice Line (ACAL).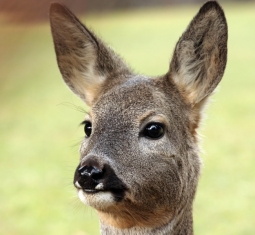 Three Community Councils representing neighbourhoods close to Tullos Hill have issued a last minute appeal asking Aberdeen City Council to call off the deer cull planned for Tullos Hill.
In a strongly worded
open letter
the Community Councils, which represent over 25,000 Aberdonians, accuse the City Council of using underhand tactics to get backing to plant trees on Tullos Hill as part of their Tree for Every Citizen initiative.
They claim that,
"the public consultation was seriously flawed and made no mention of a deer cull. Community Councils and the general public were given incomplete information, allowing ACC's intention to cull to remain unchallenged". 
When the intention to kill the resident roe deer eventually became public knowledge there was an outcry with many Aberdonians telling the City Council that if the Tree for Every Citizen project meant killing the deer they did not want any trees planted for them. The Community Councils say the City Council dismissed local public opinion and have pleaded with the Council to change their mind at the eleventh hour and to,
"Listen to the voices of the people who elected you, cancel the cull and let the Tullos Hill deer live".
For over a year Animal Concern Advice Line (ACAL) has been supporting local campaigners in the battle to save the Tullos Hill roe deer. John Robins of ACAL welcomed the intervention of the Community Councils. He states;
"This is a severe embarrassment to Aberdeen City Council.
"They can no longer claim that opposition to the deer cull is coming from outwith Aberdeen. Three Community Councils representing over 25,000 Aberdonians have made it perfectly clear that they want this cull stopped. On Sunday of this week the CEO of the National Trust for Scotland admitted on national television that they had made a mistake by undertaking a mass cull of deer on the Mar Lodge Estate. 
"The very same advisors who were behind that cull are the people advising Aberdeen City Council to kill the deer on Tullos Hill. There is still time for Aberdeen City Council to avoid making that same mistake. All they have to do is respect the wishes of the people who elected them and call off the cull."
 The Open Letter signed by Nigg, Torry and, Kincorth & Leggart Community Councils can be viewed here.